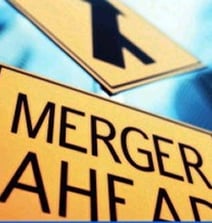 Here's a recap of some of the latest A/E/C mergers and acquisitions that have been announced in recent weeks.
October 16, 2019 – Consulting engineering firm Ross & Baruzzini (St. Louis, MO) acquired Genesis Planning (Houston, TX), a 37-person medical equipment planning and consulting firm. "The acquisition of Genesis, combined with our current medical equipment planning division Mitchell Planning, which we acquired in 2016, and EDI, a leading low-voltage and communications company brought on in 2018, creates one of the largest medical equipment and technology planning firms in the healthcare industry," stated Ross & Baruzzini Chairman Craig Toder.
October 15, 2019 – Global design and engineering firm WSP (Montreal, QC) acquired 375-person engineering consultancy Lievense (Breda, The Netherlands). "This transaction, which fits in our development strategy, enables us to establish a presence in the Netherlands, while strengthening our leadership in Europe where, including the UK and Ireland, we now are 16,000 people strong," stated Magnus Meyer, CEO of WSP in Europe.
October 15, 2019 – Civil engineering, land surveying, and planning firm DJ&A (Missoula, MT) acquired the assets of Ecosystem Research Group (Missoula, MT). "We serve a very large number of federal clients, and one of the needs they have is environmental compliance through the National Environmental Policy Act," stated Christopher Anderson, President and CEO of DJ&A. "ERG provides those services at a very high level. The marriage made a lot of sense when we started looking at it."
October 15, 2019 – P2S (Long Beach, CA), a professional engineering, commissioning, and construction management firm acquired Muni-Fed Energy (Long Beach, CA), an energy consulting firm. "MFE has a 10-year track record of providing energy services to the industrial and municipal sectors," says P2S President and CEO, Kevin Peterson. "Commitment to reducing energy consumption and environmental impacts of doing business are core values for both companies, and the acquisition enhances our energy service offerings.
October 11, 2019 – Transportation and infrastructure engineering firm CONSOR Engineers (Houston, TX), a portfolio company of Keystone Capital, Inc., acquired engineering and inspection firm TKW Consulting Engineers (Ft. Myers, FL). "We are thrilled to welcome TKW to the CONSOR family," commented Sandeep Patil, CEO of CONSOR. "TKW is a collection of 'do-the-right-thing' individuals who embody the CONSOR culture. Their technical expertise in water/wastewater and other disciplines is the perfect fit as we look to diversify, and we see incredible potential to build around this talented team."
October 3, 2019 – Multi-disciplinary firm LHB (Duluth, MN) acquired Cermak Rhoades Architects (Saint Paul, MN). LHB's Kim Bretheim, FAIA, LEED AP BD+C continues to lead LHB's Housing Studio with CRA founders Terri Cermak and Todd Rhoades providing client relationship development and design direction to meet the region's need for more affordable housing.
October 2, 2019 – Civil engineering firm Bleyl Engineering (Conroe, TX) acquired Garrett-Ihnen Civil Engineers (Austin, TX). With the addition of Garrett-Ihnen's 14 employees, Bleyl Engineering grows to 82 employees. "We're very excited about the opportunities that come with a larger presence in Austin," John Bleyl, president and CEO of Bleyl Engineering, said in an announcement. "We intend to grow even further by taking our extensive public works experience and bringing it here."
October 1, 2019 – MSA Professional Services (Baraboo, WI) acquired Muermann Engineering (Kiel, WI). "This integration represents an exciting step forward to meet the needs of our clients and expand our services in new markets. This partnership has been decades in the making." stated MSA CEO Gil Hantzsch.
October 1, 2019 – Engineering, architecture, planning and project management services firm J.L Richards & Associates (Ottawa, ON) acquired Porcupine Engineering Services (Timmons, ON), a multidisciplinary engineering firm that specializes in brownfield mining. "This represents a significant business development and technical growth opportunity for us all," stated JLR President Guy Cormier.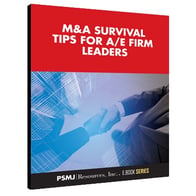 Merger & Acquisition (M&A) activity in the architecture and engineering space is certainly on the upswing and well on its way to reaching pre-recession levels. But, how ready are you for taking on the task of buying or selling an A/E firm? If you are looking for tips to help your firm navigate through the M&A process, check out PSMJ's complimentary ebook M&A Survival Tips for A/E Firm Leaders.
Other M&A Related Posts:
Getting Ready to Sell? Think Like a Buyer!
What You Must Know About Private Equity
Growing Revenue = Growing Valuation? Be Careful What You Wish For!