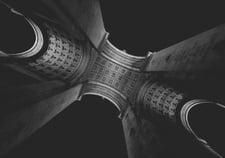 Perusing the Internet, one cannot but come upon interesting news surrounding building information modeling (BIM), whether it is developments in the technology or its application by architecture, engineering or construction firms around the globe. Here is a selection of recent articles that present some new ways to think about BIM deployment.
UK embraces BIM, and others may follow

Level 2 building information modeling is now required for government construction contractors in the UK, marking a milestone in adoption of BIM globally. Industry experts reflect on what the UK requirement and others worldwide, possibly to soon include the US, will mean for construction. Construction Dive
BIM competition takes on hyperloop challenge
A team-based international competition for building information modeling is getting in on the excitement over Elon Musk's proposed hyperloop transportation system. Build Earth Live is challenging A/E/C industry participants to cooperate over 48 hours to design a plan for a hyperloop between Dubai and Abu Dhabi in the United Arab Emirates. Engineering.com
Level of Development clarified for BIM, 3D modeling
Level of Development is a measure of confidence and reliability of information across the stages of a construction project. It's getting clarification with the LOD Specification document published by the BIMForum. Publication was driven by the fact that LOD "has been exposed to broader interpretation in relation to its application and what it is expected to deliver since its acceptance as a standard of reliability and integration within [building information modeling] and 3D models," noted Scott Beazley, digital technologies manager at Mitchell Brandtman. Sourceable
Architect looks at performance advantages of BIM
Architect Anthony Frausto-Robledo looks at how performances by architects and building information modeling software interact, making a case for using BIM. He takes a specific look at Graphisoft's ArchiCAD 19, outlining three key areas where it boosts performance. Architosh
Building information modeling complements the tried and true Master Builder approach to construction for integrated project delivery, a type of collaboration focused on higher productivity and lower waste, writes Richard Voreis. BIM brings a wider range of contributors into the process, including the owner, architect, engineer, general contractor and subcontractors, as well as product manufacturers. The USGlass News Network
BIM standardization through the cloud seen as crucial for infrastructure work

Cloud-based software for building information modeling is key for Carollo Engineers to keep its teams closely coordinated on crucial infrastructure projects. In particular, Carollo has opted for Bentley Systems' EADOC software for the kind of standardization that Carollo says should improve the company's approach to BIM with timely tracking of construction progress, workflow and finances. Engineering.com
BIM cuts days to minutes in bidding process
A recent survey illustrates the transformative power of building information modeling, writes Richard Voreis. Glass and glazing subcontractors were surveyed about the time it would take to do a takeoff and estimate based on architectural drawings for a four-story office building. Most said it would take three days, or 1,440 minutes, to put it all together. However, "[u]sing computer takeoff and estimating software, in conjunction with the BIM architectural drawings, it took a total of four minutes to perform all bidding functions," Voreis writes. The USGlass News Network
BIM library lightens load of MEP designers in Europe

Mechanical, electrical and plumbing system designers in Europe can now access a building information modeling library of more than a million objects via the cloud. The MagiCloud library spares MEP professionals the task of creating individual models from scratch and filling in the needed information from disparate sources. Engineering.com
BIM a key element in drive for building-industry efficiency
Building information modeling and related technology are among the process categories identified by owners and construction contractors increasingly searching for every means possible to reduce costs and risks while maximizing certainty in scheduling and performance. A hearing by the National Institute of Building Sciences identified several other areas, including collaboration in the form of teams that serve to ensure a project's success. Facility Executive magazine online
BIM gaining ground as firms acknowledge benefits
One-third of readers of Constructech reported they weren't using building information modeling in 2015, but that marks a big gain in BIM use over the preceding few years. The most commonly cited holdup in adoption is the lack of any definitive way to measure return on investment, but more firms are acknowledging other benefits, including the cachet that the use of BIM gives a firm as a technology leader. Constructech (free registration)
Wearables incorporating BIM, other tech to improve work site safety.

Tech startup Human Condition Safety specializes in the development of wearable devices, analytics and systems for use at job sites and has won a major investment by an insurer. American International Group sees major improvements in worker safety and efficiency from HCS' technology, which will incorporate artificial intelligence, building information modeling and cloud computing. Insurance Journal