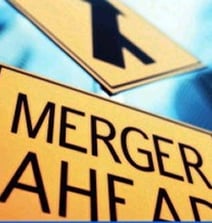 Here's a recap of some of the latest A/E/C mergers and acquisitions that have been announced in recent weeks.
December 11, 2019 – Engineering, construction management, design, and environmental professional services firm The Kleinfelder Group (San Diego, CA) completed an asset purchase agreement with Advantage Engineers (Mechanicsburg, PA) to acquire their geotechnical engineering, environmental consulting, and construction observation and materials testing (CoMET) services division. "The Advantage Engineers transaction brings additional capabilities to our Mid-Atlantic business and perfectly complements Kleinfelder's operations as a whole," said Kleinfelder's President and CEO, Louis Armstrong. "We now have a strong CoMET practice that seamlessly integrates with our existing geotechnical and environmental practices in the region. This additional expertise can be leveraged to deliver added value to existing clients, as well as create opportunities with new clients that will fuel growth,"
December 4, 2019 – Schacht Aslani Architects (Seattle, WA), a firm specializing in the planning and design of innovative academic, civic and cultural projects, is joining Mithun (Seattle, WA), augmenting the national firm's integrated design practice. "Growing the strength of our firm with such a talented team is a rare opportunity and we couldn't be more excited about the partnership," said Dave Goldberg, Mithun President. "Schacht Aslani and Mithun share values of modern, high-performing design and a strong collaborative process hat we believe is critical to serving clients and communities."
December 3, 2019 – Salas O'Brien (Santa Ana, CA) announced that MEP Associates (Eau Claire, WI) joined the company. "I am so excited to have the MEP team join Salas O'Brien as new employee-owners," said Darin Anderson, Salas O'Brien chairman and CEO. "Their highly technical knowledge and outstanding reputation for client service are such a good fit for our team. Our past collaboration has revealed a true likeminded spirit. Now, as part of one Salas O'Brien team, we can serve more clients with an even greater depth of experience and build an outstanding future together."
December 3, 2019 – Westwood (Minnetonka, MN) completed the acquisition of Main Line Energy Consultants (Lansdale, PA), a multi-disciplined engineering firm providing transmission, distribution, and telecommunications design and consulting services. "We are truly excited to bring Main Line's team on board," says Aaron Tippie, PE, Westwood senior vice president, power division. "It's been a relationship in the making for quite some time. Their culture, leadership, and vision for growth align well with Westwood's, and together, we will provide an even greater set of solutions to all of our clients."
November 25, 2019 – TRC Companies (Lowell, MA) acquired Environmental Partners, Inc. (Issaquah, WA). "TRC is excited to add another team of experts to our Engineering, Construction and Remediation group," says Stacy Sabol, TRC's VP and National Practice Leader of ECR West. "EPI has an excellent reputation for quality service and longstanding client relationships, and our combined service offering synergies will help TRC increase our reach in the Pacific Northwest region and beyond."
November 19, 2019 – Consulting, engineering, construction and operations firm CDM Smith (Boston, MA) acquired environmental and social consultancy Bioscope Environmental (Perth, Australia). CDM Smith chairman and CEO Tim Wall stated "The addition of Bioscope Environmental to the CDM Smith team gives additional depth to our mining-sector technical expertise and capabilities, allowing us to provide value added services for new and existing resource-sector clients across the globe, as well as to accelerate our already strong growth in Australia, particularly Western Australia."
November 18, 2019 – Spiezle Architectural Group (Hamilton Township, NJ) acquired City Invincible Architecture, Interiors and Urban Design (Camden, NJ). This acquisition supports Spiezle's strategic growth plan by growing the firm to 95 employees.
November 11, 2019 – NV5 Global (Hollywood, FL), a provider of professional and technical engineering and consulting solutions, acquired the forensics engineering business of GHD Group. "The addition of GHD's forensics engineering business to our existing forensics group makes us one of the nation's leading forensics consultants and expands our capabilities in a specialized, high-margin service offering throughout the Southeast market. We now have a platform to expand this service line nationally and access to a number of premiere clients in the insurance industry," said Dickerson Wright, PE, Chairman and CEO of NV5.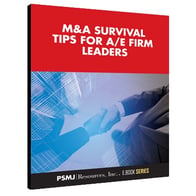 Merger & Acquisition (M&A) activity in the architecture and engineering space is certainly on the upswing and well on its way to reaching pre-recession levels. But, how ready are you for taking on the task of buying or selling an A/E firm? If you are looking for tips to help your firm navigate through the M&A process, check out PSMJ's complimentary ebook M&A Survival Tips for A/E Firm Leaders.
Other M&A Related Posts:
Getting Ready to Sell? Think Like a Buyer!
What You Must Know About Private Equity
Growing Revenue = Growing Valuation? Be Careful What You Wish For!