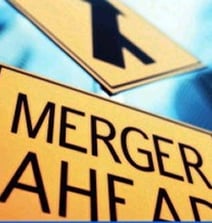 Here's a recap of some of the latest A/E/C mergers and acquisitions that have been announced in recent weeks.
January 28, 2020 – Architecture and engineering firm HED (Southfield, MI) merged with healthcare design firm Puchlik Design Associates (Pasadena, CA). Peter Devereaux, HED's CEO, said "HED has a large presence in Southern California, and we have been serving clients in the healthcare sector in other parts of the country for decades," Devereaux said in his statement. "Bringing in PDA was a natural step towards [providing] greater nationwide service."
January 28, 2020 – RLG Consulting Engineers (Dallas, TX) acquired ATSE Consultants (East Peoria, IL), a firm that specializes in structural design and analysis of new and existing structures. The two companies and their employees have collaborated on many projects over the years, allowing for a seamless transition for internal and external clients.
January 23, 2020 – Environmental and advisory services firm SLR (Aylesbury, Buckinghamshire) acquired Milone & MacBroom (Cheshire, CT), a 185-person consulting firm. Neil Penhall, SLR's Chief Executive said "This is SLR's sixth acquisition in just over twelve months and again reflects the confidence we and our investors, Charterhouse Capital Partners, have in the market and the opportunities to provide world-class solutions and advice to our clients."
January 21, 2020 – Multi-discipline design firm Lionakis (Sacramento, CA) acquired Lundstrom & Associates (Irvine, CA), an architecture firm which specializes in Laboratory Design for clients within the Science, Technology and Education markets. This acquisition positions Lionakis to offer Laboratory Design services in addition to providing our full range of design services to clients in the Science and Technology market.
January 19, 2020 – Architecture firm MG2 (Seattle, WA) acquired The Lion'esque Group (New York, NY), a boutique retail firm focused on immersive pop-up stores. "From my initial conversations with Melissa and Nick, the alignment between our values, goals, and what we are most passionate about was clear, as was our mutual focus on creating memorable and transformative experiences for our clients' customers." stated Mitch Smith, CEO of MG2.
January 6, 2020 – Engineering consisting firm WSP (Montreal, Quebec) acquired environmental consulting firm LT Environmental (Arvada, CO). "This transaction will enable us to fulfil our strategic ambitions of our activities in the Rocky Mountain West region, while solidifying our expertise in the environmental sector," noted Lou Cornell, President and Chief Executive Officer of WSP in the US.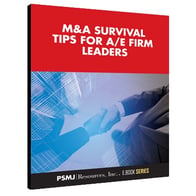 Merger & Acquisition (M&A) activity in the architecture and engineering space is certainly on the upswing and well on its way to reaching pre-recession levels. But, how ready are you for taking on the task of buying or selling an A/E firm? If you are looking for tips to help your firm navigate through the M&A process, check out PSMJ's complimentary ebook M&A Survival Tips for A/E Firm Leaders.
Other M&A Related Posts:
Getting Ready to Sell? Think Like a Buyer!
What You Must Know About Private Equity
Growing Revenue = Growing Valuation? Be Careful What You Wish For!