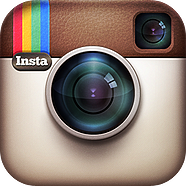 Instagram should be part of your architecture, engineering or construction (A/E/C) firm's social media arsenal – especially now! Here's how to get started:
Instagram is a mobile photo-sharing app. It's available for iPhones and Droid devices, but not for tablets or computers (however, accounts and settings are viewable on most browsers). It's a great, easy, and fast way to share you firm's projects and culture, and not just with current and past clients, but with everyone – your employees, your friends and family, the world.
People who are drawn to your account don't just want to see your firm's work; they want to see your firm – your employees, your fun, your thoughts and ideas. In addition to posting gorgeous photos of your completed projects, here are seven other ideas for Instagram pics.
You could use Instagram to showcase your firm's portfolio, but that's not really going to interest people and increase your "followers." Keep in mind that Instagram photos receive around 1,000 comments and 8,500 "likes" per second – that's 1.2 billion per day!
Projects in progress. Post photos from a construction site, of structural connections or of your employees interacting with the contractors.

Field trips. Do your employees periodically take trips to factories or materials suppliers as part of the professional development? Take pictures of those trips and post them.

Office parties. If your office is fun, tell the world about it. Posting pictures of your principals and employees being quirky at a party isn't unprofessional. It's human.

Meetings. Whether they're serious or silly, internal or with clients, it's nice to let people know that you work collaboratively. Take photos during meetings, and share them.

Sketches. Sometimes your work-in-progress is more interesting the final product. If someone in your firm does incredible napkin sketches, snap some shots of them.

Inspiration. You don't always have to share photos of your own firm's work. If you find another building or detail interesting, share of photo of it and let people know why you like it.

Your office and neighborhood. Where you work can be just as interesting as how you work and your projects. Post photos of your streetscape or frequented restaurants.
Don't just post photos and hope that people will discover them. Use hashtags like #modernarchitecture, #officeparty, #newconstruction, etc. in order to grab more Instagram users. The more hashtags you use, the better.
Not many A/E firms have hopped on the Instagram bandwagon yet. Like any social media tool, it takes time to manage, and there's really no way to measure its ROI because there isn't any tangible profit from it beyond keeping your firm's name and buzz "out there."
If you'd like to see what others are doing, here are four small-to-midsize firms that are using Instagram. Check them out.
Dattner Architects (New York City) - @dattnerarch

Flavin Architects (Boston) - @flavinarchitects

Sorg Architects (Washington DC) - @SorgArchitects

Verge Architecture (Seattle) - @vergead
Now it's your turn: Does your architecture or engineering firm have an Instagram account? Let us know how you've been using it.
About the Author: David Whitemyer AIA is a licensed architect with over twenty years of experience in museum planning, exhibition design, and project management. He is the Director of Business Development at Luci Creative, an exhibit design firm. He served as a Senior Project Manager at Brent Johnson Design, and as the Director of Production at Christopher Chadbourne and Associates.
Other Social Media-Related PSMJ Blog Posts:
AEC Social Media: Myth vs. Reality

Get Social Media Smart in Four Easy Steps

Twitter Checklist: 10 Tips to Increase Client Engagement

How to Turn Employees Into Firm Advocates on LinkedIn

Is LinkedIn an Effective Tool for Marketing in the A/E Industry?