To maintain success in a marketplace with greater competition, more intensive procurement, higher costs, and increasingly lower fees – and to better position our architecture and engineering firms for the future – top leaders and organizations are leveraging the power of mission.
We have a mission as an organization. It is our purpose. It's why we exist. The best ones attract, inspire, and guide our actions.
We have a mission as individuals as well. Our mission is more about our "who" than our "why," and it evolves over time.
Something to Believe In
Our organization's mission statement connects us to others. It articulates the impact we want to have through our work and beyond.
When designed well, it is a perfect leadership "master plan" to help establish our brand and culture, and set targets that motivate us to accomplish great things and navigate challenging times.
To do so, our mission must be focused on a positive and resilient "just cause" in service to others, and one that all of our employees – present and future – would be willing to believe in and sacrifice for.
Becoming a Firm of Choice
As an industry, we have become pretty good at aligning our mission with our clients'.
Our business development and client relationship management systems are advanced. They focus on building relationships and understanding issues, desires, goals, opportunities, and constraints well before we begin work on a deliverable.
We strategically identify, qualify, and develop, and then shift additional effort into the proposal, selection, and contracting processes over the course of months, and even years, to convince them we are the firm of choice. Most of us would agree that this is appropriate – and that even more is needed.
Purposely and strategically engaging with clients up-front on how best to solve their problems and advance their cause works. It also builds affinity and loyalty.
Imagine if we designed and executed our internal employee engagement, development, and management systems with the same level of care, intensity, and investment?
Would that be enough to become and remain the firm of choice for our best employees?
Dealing with Our Biggest Challenge
Throughout our industry, there is the growing chasm between "what it takes to be successful" using traditional means and metrics and the desire employees have today to win at both work and life.
This separation is leading to burnout and exhaustion, lower profits, less engagement and retention, and an erosion of workplace culture. This needs to be a leadership's biggest priority (and mission!) – even if some on the team have not yet fully embraced the issues.
A well-designed mission is especially powerful during challenging times when talent has the choice to step away… and is doing so in increasing numbers.
A Common Purpose
We can all agree that we would like to break the cycle of burnout and disengagement and have projects with larger fees and longer schedules. How to do this in our current state can be a challenge. (You can learn more about burnout and disengagement through our recent Podcast interview with Pete and a link to Pete's book from our website: Professional Burnout And Disengagement In The A E Industry: What If They're Right? and Reversing Burnout. How to Immediately Engage Top Talent and Grow!
To progress, we need a shift in leadership mindset and new investments to engage and develop our talent in ways deeper than our clients.
On the client-side, we engage to "serve a purpose", to design a solution to solve one or more of their problems.
On the talent-side, "serving a purpose" is more akin to having a "job", to put food on the table or pay the mortgage. This won't generate the drive and commitment needed to get out of our current cycle.
To advance, we need our talent to "find purpose" and build careers in the work we do. Fortunately, from a work perspective, much of what we do in the A/E/C industry is pretty amazing if we take the time to think about and express it. However, designing our work environments to best develop and retain our talent will take more effort.
As our talent evolves in terms of their interests and passions, we also need to co-create ways to align our work with their "life purpose," their ultimate mission, if we hope to retain and fully engage them. Work projects alone will never be enough.
5 Steps to Take
To leverage the power of mission, we can begin with these 5 steps:
Revisit your firm's mission. Does it attract and inspire? Does it advance both sides of the "Talent-Client" equation? Is it able to guide us to where we want to be? Is it a brand we want to be associated with as both leaders and employees?

Revisit your mindset toward talent. Have you considered the mission of your employees? Do you know the "purpose" our work serves in their lives? Do you have a specific plan to optimize and advance it?

Reimagine your "employee development" and "employee relationship management" systems to maximize growth and engagement.

Redesign your work, performance, and incentive systems around our mission to make it happen.

Invest in and celebrate great project management and execution as the key to realizing your mission and advancing your firm and industry.
The new era is forcing major change in the A/E/C industry. Despite our great work and vital role, we need to adapt as leaders and organizations if we want to attract, inspire, and remain relevant.
Our mission must be more than website text or words on the wall. Our mission must have the power to produce wins for our clients, our talent, our organizations, and beyond.
It's not only possible, it's essential for our future viability.
You can also check out Part 1 of this series "Why We Must Focus More On Our People."
About the Author: Peter C. Atherton, P.E. is an A/E/C industry insider having spent more than 24 years as a successful professional civil engineer, principal, major owner, and member of the board of directors for high-achieving firms.
Pete is now the President and Founder of ActionsProve, LLC (www.actionsprove.com), author of "Reversing Burnout. How to Immediately Engage Top Talent and Grow! A Blueprint for Professionals and Business Owners", and the creator of the I.M.P.A.C.T. process.
Pete is also host of The AEC Leadership Today Podcast (https://actionsprove.com/podcast/). Pete works with A/E/C firms to grow and advance their success through better strategic planning, executive coaching, leadership and management development, performance-based employee engagement, and corporate impact design. Connect with him at pete@actionsprove.com.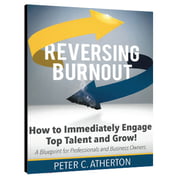 Reversing Burnout. How to Immediately Engage Top Talent and Grow! A Blueprint for Professionals and Business Owners uses a thorough and easy-to-follow approach, that only an engineer can provide. Peter Atherton presents the promise and the opportunities of the new professional and organizational landscape. As engineering is the practical application of science, Reversing Burnout is the practical application of the new era we're in to reverse professional and executive burnout, improve employee engagement, and grow.
You also might be interested in these posts by Peter C. Atherton, P.E: The New Rules of Employee Engagement – Part 1: Know Your RoleThe New Rules of Employee Engagement – Part 2: Doing Our Job as LeadersThe New Rules of Employee Engagement – Part 3: Doing Our Job as ManagersThe New Rules for Employee Engagement – Part 4: Doing Our Job as Employees