Reversing Burnout. How to Immediately Engage Top Talent and Grow! A Blueprint for Professionals and Business Owners
Publisher: ActionsProve Publishing
Date Published: 2018
Number of Pages: 167
Availability: In-Stock
Format: Softcover
Price: $19.95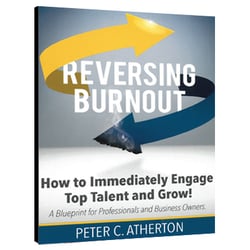 "Pete is a great guy with a message that needs to be heard and heeded in our industry."
- Mitchell L. Fortner, P.E. | President | KSA
Traditional strategies to retain employees and create a corporate culture that attracts high achievers, no longer work. In fact, traditional approaches may not only be ineffective—many decisions damage a business and with it sabotages its future survival.
Many top professionals are contemplating a future that does not include their current employer. Individuals that a firm may rely on are pivoting away from their organizations as a result, among many reasons, burnout. When you finally recognize lack of employee engagement and employee retention, it may be too late.
Whether it's because work is simply consuming too much of our top talent's time and energy and giving them very little back or:
Work doesn't provide anticipated growth or excitement
Careers stop providing challenges and opportunities
Or professionals want something they think is outside of what a firm can provide
Many professionals, executives, and other high achievers are exiting or poised to "pivot away" from their organizations—and even their careers—at unprecedented levels. Whether or not burnout is the reason—individuals, organizations, and industries need an answer. Reversing Burnout provides one.
Reversing Burnout. How to Immediately Engage Top Talent and Grow! A Blueprint for Professionals and Business Owners uses a thorough and easy-to-follow approach, that only an engineer can provide. Peter Atherton presents the promise and the opportunities of the new professional and organizational landscape. As engineering is the practical application of science, Reversing Burnout is the practical application of the new era we're in to reverse professional and executive burnout, improve employee engagement, and grow.
This book speaks specifically to us in terms of the "many hats" we must wear as professionals, executives, and entrepreneurs. It presents a blueprint and an engineered process we, as individuals, organizations, and leaders, can use for winning … and along the way transform the workplace for the benefit of us all. To listen to Peter talk on subject of professional burnout in detail, please check out his recent appearances on the PSMJ podcast.