Selling an architecture or engineering firm can seem like a daunting process. But, the truth is that the right mindset and the right team can make it a whole lot easier. Even more than this, knowing that you are negotiating a deal with the right buyer is most critical.
How do you find that ever-elusive right buyer. . . the one that will see optimal value and alignment between the two organizations? By thinking exactly how a buyer thinks! That means taking a hard look and articulating clear answers to questions like:
Where is the strategic value? To put a finer point on this, what really makes your design firm different from all of the others out there? Do you have deep national relationships in key client markets? Unique technology to make the design process more efficient? Without strategic value, you are just another design firm.

What do we have after the deal? Every buyer is going to want to understand your bench strength, your backlog, and your growth opportunities. It isn't just about what makes your firm different now, but what will continue to make it different going forward. Those deep client relationships don't mean much if they are tied to one or two retiring principals.

What could we do together that we can't do alone? Look at any potential buyer, and you should be able to spell out (in 30 seconds or less) how the two organizations are stronger together. How can the combined organization pursue opportunities or realize strengths that neither could achieve on their own?
When you start asking (and answering) questions like these, you quickly start seeing who the top buyers are...the ones that really are the circle peg for the circle hole. And, when a great strategic match is made, the financial and other pieces will often come together much easier.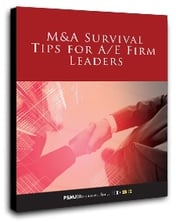 Merger & Acquisition (M&A) activity in the architecture and engineering space is certainly on the upswing and well on its way to reaching pre-recession levels. But, how ready are you for taking on the task of buying or selling an A/E firm? If you are looking for tips to help your firm navigate through the M&A process, check out PSMJ complimentary ebook M&A Survival Tips for A/E Firm Leaders.

Other M&A Related Posts
A/E/C Mergers & Acquisitions in October
A/E/C Mergers & Acquisitions in September
Expert Interview: Assessing Current M&A Market Conditons and Trends
How prepared are A/E firm leaders to undertake M&A?