Many architecture and engineering firms suffer from a lack of return on investment on the accounting time spent making sure that invoices get out on time, and that the debits and credits are done right. You produce financial statements, they land on the principal's desk, and are there for two seconds before they're put in the file drawer.
The big problem many A/E firms have is that their financial metrics don't call for any action. The metric is too high level to influence anybody's behavior. For instance, your firm's strategic plan probably has a goal of better profitability. However, profitability only stands out as an item on your financial statement.
And by simply reporting profitability, you don't know what's driving it. To determine the major factors that influence profitability, you need to first look at cascading your KPIs (see chart below), and find the metrics that your firm can take action upon to drive your firm's success.
CASCADING KEY PERFORMANCE INDICATORS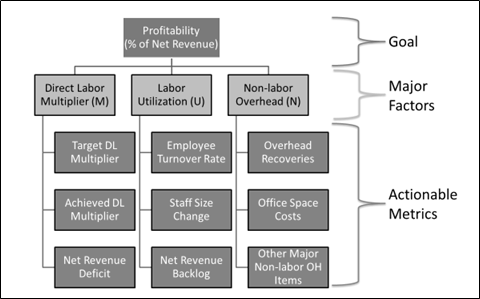 When you track major factors such as M, U, or N, you become a little more actionable. But how many metrics go into driving each of those? These are the actionable metrics (see above) you need to be looking at. They impact the major factors, and ultimately drive profitability. Take a look at your financial reports and see whether you are being granular enough with your KPIs to influence behavior or whether you're just putting out information because that's what financial managers do.
For example, if you see utilization dropping while you're in an intense hiring period, that's not a bad thing. But it's not the utilization that's the problem. It's the proportion of experienced people to inexperienced people that's driving down utilization.
And so, it's actionable metrics that you need to put more prominently on your financial statements. And these metrics are going to vary based on your firm's strategic plan, goals, budgets, financial model, etc. Getting more granular with your KPIs is how you can actually make a difference.
This article is an excerpt from PSMJ's recently released Raise Your Game for Firm Success, an all-new A/E financial management manual perfect for both the seasoned CFO and the architect or engineer thrust into the role of financial manager. Loaded with proven best practices and tested techniques from successful A/E managers, it enables firm leaders, finance executives, and project managers just like you to achieve superior project budget performance and firm profitability -- in any economic environment.