Raise Your Game for Firm Success: The Ultimate A/E Financial Management Manual
Publisher: PSMJ Resources, Inc.
Date Published: 2019
Number of Pages: 295
Format: PDF
Price: $597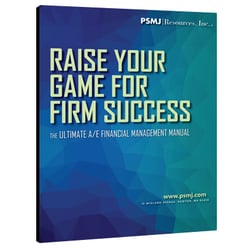 Key Contributors in A/E Firms Know Key Metrics -- and How to Act on Them. Raise Your Game and Advance Your Career with the Ultimate Financial Management Manual.
Are you tracking and measuring the right financial KPIs at your architecture or engineering firm? Are you then using those KPIs to increase profits and meet strategic goals? What minor tweaks would deliver outsized gains for your firm, or prevent a financial meltdown?
Raise Your Game for Firm Success is the all-new A/E manual perfect for both the seasoned CFO and the architect or engineer thrust into the role of financial manager. Loaded with proven best practices and tested techniques from successful A/E managers, it enables firm leaders, finance executives, and project managers just like you to achieve superior project budget performance and firm profitability -- in any economic environment.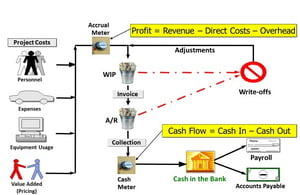 Using time-tested tactics aligned with the latest economic and market data, it explains how to develop compensation programs that attract, retain, and incentivize top design talent, negotiate pricing and contracts to support firm goals, manage multiple business units, navigate ownership transition, and so much more. The manual includes everything you need to make smarter policy and practice decisions, whether you're a trained financial manager or a someone drafted to the cause.
More than how to measure and track key performance indicators, you get instructions for changing those numbers, managing cash flow and overhead, and operating more efficiently than ever before.
Make smarter decisions with insights from financial management experts
This 295-page manual curates and distills the very best advice from PSMJ's stable of experts, the senior firm managers and in-demand consultants who have trained hundreds of A/E leaders in the industry-leading Financial Management Bootcamp. These battle-tested professionals share their hard-won lessons for mastering each aspect of great business practice:
Financial Reporting
Business Planning and Budgeting
Compensation
Pricing
Contracts

Project Controls
Managing Cash
Managing Overhead
Managing Multiple Business Units
Ownership Transition
"Raise your game" means contributing at a higher level as your firm's financial manager or within the firm's management structure, and this manual shows you how to do it. Order now!
---
RELATED PRODUCTS