Here's a recap of some of the latest A/E/C mergers and acquisitions making headlines…
October 1, 2016 – Pacheco Ross Architects (Voorheesville, New York), a design and project management firm, merged with H2M architects + engineers (East Melville, New York), a full-service consulting and design business. Rich Humann, P.E., President and CEO of H2M architects + engineers commented, "It is a true honor to officially announce our partnership with Pacheco Ross. As a nationally recognized firm, PRA's expertise within the emergency response market will surely bring H2M's service-line to the next level. With similar values and attitudes towards the way we approach our work, PRA is both a cultural and professional fit and we are looking forward to what we will be able to achieve for our clients moving forward."
October 2, 2016 – TWH Architects (Chattanooga, Tennessee), a full service architectural firm, was acquired by Michael Brady (Knoxville, Tennessee), an architectural and engineering services business. "We've had our eye on the Chattanooga market for a number of years because of its growth potential and, in a lot instances, you need to be present to win," said Eddie Jett, the chief executive for MBI. "This will expand our service capabilities in the greater Chattanooga area and help to better service our clients while keeping the TWH name. I think the two firms really complement one another."
October 3, 2016 – EwingCole (Philadelphia, Pennsylvania), a leader in architecture, engineering, and interior design acquired BBH Design (Raleigh, North Carolina), a provider of planning, design, and design research services. "BBH Design's team provides added leadership and expertise in many of the industries EwingCole serves," said Mark Hebden, EwingCole's President. "EwingCole and BBH Design share a strong focus on cultivating client relationships and being recognized as trusted advisors. We look forward to combining our resources, building on our current success, and expanding into new markets."
October 3, 2016 – ATC Group Services (Lafayette, Louisiana) a leading full-service environmental consulting and industrial hygiene firm, acquired Environmental Compliance Services (Agawam, Massachusetts), a provider of site remediation and regulatory consulting services. "Environmental consulting is the heart of ATC's business, and ECS's expertise and service offering are a perfect addition to our existing environmental capabilities," said ATC CEO Bobby Toups. "ECS's strong customer base is highly complementary to our own, so by joining forces we will be better positioned to drive growth and deliver an even broader portfolio of environmental services to our valued customers."
October 5, 2016 – Arcadis (Amsterdam, Netherlands) acquired Environmental Strategies (Sydney, Australia), an environmental remediation business. Malcolm McDowall, Managing Director Environment and Project Services for Arcadis, had this to say, "This is a very important strategic acquisition for Arcadis. Globally we are a leader in environmental remediation work but until now have lacked some of the deep skills required here on the ground in Australia. Environmental Strategies will immediately provide Arcadis with the local capacity and capability to deliver significant remediation projects and meet our client's needs. The Australian market for environmental remediation is worth several billion dollars, so it presents a huge growth opportunity for us."
October 10, 2016 – Interior Architecture & Design (Raleigh, North Carolina), a planning and interior architecture and interior design firm, joined EwingCole (Philadelphia, Pennsylvania), a leader in architecture, engineering, and interior design. "IDeA's design team provides immediate leadership and interior architecture expertise to our new offices in Charlotte and Raleigh and the creative team provides a depth of resources for clients nationwide," said Mark Hebden, EwingCole's President. "We look forward to cultivating their research, which validates successful planning and design strategies, and introducing it to current and future clients." The combining of firms supports EwingCole's goal to provide integrated design services to clients in the region, as well as allow further expansion into the southeastern United States.
October 11, 2016 – In a move to expand the size of its MEP engineering staff, KAI Design & Build (St. Louis, Missouri) acquired the engineering group of United Excel Design (St. Louis, Missouri), a provider of architectural and engineering services. "This acquisition is significant to KAI for three reasons. One, it gives us the additional expertise and portfolio to compete for significant government/military projects nationwide that are specifically geared toward medical facility repairs, renovations and new construction," said KAI President Michael B. Kennedy. "Secondly, the acquisition is a benefit to our current clients who will gain from the knowledge and experience that our expanded MEP Engineering Group brings to the table. And lastly, the acquisition now makes KAI Design & Build one of the region's largest hospital engineering firms."
October 12, 2016 – BSA LifeStructures (Indianapolis, Indiana) joined forces with H+sp (Austin, Texas), creating a firm, under the BSA LifeStructures name, that will specialize in healthcare, higher education, and research facilities. "Joining forces with BSA LifeStructures allows us to offer our clients the resources of a much larger firm with the same small-firm mentality and attention to detail," said H+sp Principal Kelly Halls. "It will allow us to tackle the kind of bigger projects in other markets that clients have been asking us to."
October 12, 2016 – WSP (Montreal, Canada) acquired Mouchel Consulting (Surrey, United Kingdom), an engineering consulting services business held by Kier Group plc. Alexandre L'Heureux, President and Chief Executive Officer of WSP said: "This Acquisition fits with our 2015-2018 growth strategy, where we aim to become a top-tier player in each of the regions and sectors where we operate, while strengthening our presence in industrialized countries and our activities in non-cyclical sectors. It is also in line with our UK growth strategy to increase our presence in the UK public sector, in order to benefit from the continued government investment in infrastructure. In addition, the Acquisition will enable us to expand our regional public client base as well as optimally balance our revenue breakdown between public and private sector clients".
October 12, 2016 – Environmental consulting firm Trinity Consultants (Dallas, Texas) acquired Jim Clary & Associates (Plano, Texas), an air quality permitting and compliance consulting business. Shishir Mohan, Trinity's Gulf and Southwest Managing Director, commented on the transaction, "JCA is a perfect fit with Trinity given our mutual focus on air quality regulations and permitting requirements. Jim and his staff have particular strength in the electric utility sector, an area of growth for Trinity. We anticipate a smooth transition to bring Jim and his skilled team into the Trinity family."
October 14, 2016 – Draper Aden Associates (Blacksburg, Virginia) acquired Advanced Technical Services International (Christiansburg, Virginia), both engineering firms with a focus on geotechnical services. "This is an exciting move for DAA, as it embraces our goal to continually enhance the services we provide with yet another valuable technology," Jeffrey N. Lighthiser, the CEO and president of DAA, said in a statement. "The ability to create 2D bedrock surface maps, detect subsurface voids/structures, and solve hydrologic problems are just some of the areas where we have seen growing demand, and our Geophysical Team's expertise will open new windows to the world below for our clients."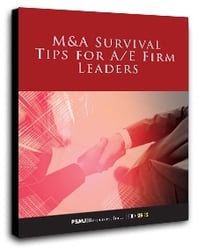 Merger & Acquisition (M&A) activity in the architecture and engineering space is certainly on the upswing and well on its way to reaching pre-recession levels. But, how ready are you for taking on the task of buying or selling an A/E firm? If you are looking for tips to help your firm navigate through the M&A process, check out PSMJ complimentary ebook M&A Survival Tips for A/E Firm Leaders.

Other M&A Related Posts:

Getting Ready to Sell? Think Like a Buyer!
What You Must Know About Private Equity
Growing Revenue = Growing Valuation? Be Careful What You Wish For!
Expert Interview: Assessing Current M&A Market Conditons and Trends

How prepared are A/E firm leaders to undertake M&A?
Where Does M&A Sit in A/E Firm Strategic Planning?