Here's your recap of some of the latest A/E/C mergers and acquisitions making headlines…
August 12, 2016 – Stantec (Edmonton, Canada) signed a letter of intent to acquire Edwards & Zuck (New York City, New York), a firm focused on providing mechanical, electrical, and plumbing design to a number of diverse market sectors. "Their embrace of innovation and their commitment to community engagement will further elevate our presence in key markets and geographies," said Bob Gomes, Stantec President and CEO.
PSMJ initiated this transaction and provided transaction advisory services for Edwards & Zuck.
July 17, 2016 – J.M. Bean & Co. (Vancouver, Canada), a highly-regarded consultancy business, joined Integral Group (Oakland, California), a mechanical engineering firm. "Their values are well aligned with ours, and we're looking forward to see what new opportunities come from our combined teams," explained Goran Ostojic, Integral Group's VP of Western Canada.
July 25, 2016 – Environmental Compliance Services (Agawam, Massachusetts), an environmental assurance firm, acquired BGL Corporation (Agawam, Massachusetts), a full-service petroleum system construction firm. "ECS is excited about this acquisition because it is consistent with our petroleum services growth strategy and is a great fit with our existing ECS Eclipse petroleum construction and compliance services group," Mr. Hershey says. "We will be able to dramatically increase our ability to serve existing and new clients with a comprehensive range of petroleum system construction, repair and maintenance - in-house - throughout New England and New York."
August 1, 2016 – Mazzetti (San Francisco, California), a global engineering design and consulting firm merged with Gene Burton & Associates (Franklin, Tennessee), a healthcare technology consulting firm. "The technically complex industries we serve, exemplified by healthcare, must increasingly reinvent themselves," said Suzan Logan, GBA COE. "Mazzetti GBA will be stronger and more nimble, enabling us to stay at the forefront of technology and IT integration to help our clients seize new opportunities. Together, we will provide a single source solution to integrate virtually every technology that transforms a facility into an exceptional delivery platform." The merged company will retain the Mazzetti Inc. name and the combined brand will be known as Mazzetti GBA.
August 3, 2016 – Helix Architecture + Design (Kansas City, Missouri) merged with Blackbird Design Studio (Kansas City, Missouri), architectural firms with expertise in the renovating urban institutions and corporate office niches, respectively. Erika Moody, founding principal with Blackbird Design Studio, had this to say, "This merger allows us to continue what we started on a larger scale; it allows us to be stronger, better, faster with a team and network in place that will help us continue to propel our city, and our region, forward." The firms will consolidate operations into Helix's existing headquarters, but will be run by a blended leadership team and new branding.
August 3, 2016 – Jansen Strawn Consulting Engineers (Denver, Colorado), a civil engineering firm, has been acquired by Ware Malcomb (Irvine, California), an international design firm. By acquiring Jansen Strawn, Ware Malcomb significantly augments the breadth and scope of its civil engineering services to complement the firm's leading architectural design services. "Ware Malcomb is strongly committed to the expansion and true integration of civil engineering services into all of our markets," said Ware Malcomb Chief Executive Officer Lawrence R. Armstrong. "This is an exciting opportunity to team up with two talented and proven leaders to make this vision a reality."
August 4, 2016 – Terracon (Olathe, Kansas) acquired ROC Geotechnical Consulting Engineers (Rochester, New York), a four person geotechnical and soils testing firm. "This opportunity allows us to further strengthen our presence in the area and draw upon the excellent regional history and reputation of an established upstate New York firm," said David Gaboury, Terracon's president and CEO. "Gaining this area expertise aligns with our commitment to bring even greater resources to our clients."
August 8, 2016 – Eppstein Uhen Architects (Milwaukee, Wisconsin) acquired KINDNESS Architecture + Planning (Milwaukee, Wisconsin), as both firms possess a similar focus on the workplace, healthcare, education and science and technology markets. Scott Kindness, owner of KINDNESS Architecture, had this to say as a former employee of EUA, "It's a wonderful opportunity. I have found that we are not just 'like-minded,' we are 'same-minded' in the way we approach our clients and people. During my career I have found my passion in mentoring others, and this leadership role allows me to make a larger impact in the life of staff, clients, and the community."
August 12, 2016 – KBR (Houston, TX) acquired Honeywell Technology Solutions, Inc. (Columbia, Maryland), a leading professional, technical and mission support services organization. HTSI will be integrated into KBRwyle, a wholly owned subsidiary of KBR, to create a total capability government services organization that spans the spectrum of the life-cycle of aerospace and defense programs from research and development, through test and evaluation, to operations, maintenance, and field logistics. "This acquisition is in-line with our previously announced strategy to expand our government service offerings into higher end technical services that tend to carry increased margins and reduced levels of risk," said Stuart Bradie, President and CEO of KBR, Inc.
August 17, 2016 – MEP Consulting firm Peter Basso Associates (Troy, Michigan) acquired nationally recognized lighting design firm, Illuminart (Ypsilanti, Michigan), bolstering PBA's established lighting design expertise and expanding national and international reach. "PBA and Illuminart share a strong customer focus, and the combination of the companies' strengths will help deliver a richer and more comprehensive design experience to building owners and architects. We look forward to bringing together the two companies to deliver the best of both MEP engineering and architectural lighting design," stated Dan Englehart, PBA's president.
August 22, 2016 – WSP | Parsons Brinckerhoff (New York City, New York) has acquired substantially all the assets of CRC Engineering, P.C. (New York City, New York), a design, field services, and commissioning firm for central utility plants and cogeneration systems. As an addition to its power group, WSP's acquisition of CRC reinforces their expertise in power generation, transmission and distribution, energy systems for buildings, underground storage of hydrocarbons and deep injection wells.
August 24, 2016 – Rice Group (Lynnwood, Washington), an engineering consultancy firm merged with Harris Group (Seattle, Washington), a multi-discipline architectural, engineering and project management consulting firm. Harris Group CEO, John Marrow said, "After working together we realized that merging will create greater opportunities for both our clients and employees alike. We are very energized about merging with Rice Group and look forward to growing together as one team."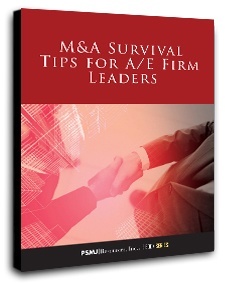 Merger & Acquisition (M&A) activity in the architecture and engineering space is certainly on the upswing and well on its way to reaching pre-recession levels. But, how ready are you for taking on the task of buying or selling an A/E firm? If you are looking for tips to help your firm navigate through the M&A process, check out PSMJ complimentary ebook M&A Survival Tips for A/E Firm Leaders.

Other M&A Related Posts:
Growing Revenue = Growing Valuation? Be Careful What You Wish For!
Expert Interview: Assessing Current M&A Market Conditons and Trends

How prepared are A/E firm leaders to undertake M&A?
Where Does M&A Sit in A/E Firm Strategic Planning?