The Latest Market Trends
Kicking off the first keynote address was one of the industry's top analysts and visionaries who provided hard data on current A/E/C market conditions—and what they mean to ambitious, growth-oriented firms. Dave Burstein P.E., PSMJ Resources Director and Senior Consultant, discussed how key market segments' behaviors are changing, why they are doing so and how to take advantage of the opportunities they create.
"There's a lot of talk about an upcoming recession," said Burstein. "But, the United States and Canadian economic fundamentals remain strong, and our survey data continues to show increased proposal activity, particularly for engineering firms. So, I don't see a recession coming until at least after the 2020 election."
That said, data from PSMJ's Quarterly Market Forecast has revealed some signs of cooling in proposal activity. The most recent quarterly proposal activity survey of A/E firm leaders in 12 major client markets and 58 submarkets shows a Net Plus/Minus Index (NPMI) of only 19 percent for Q4 2019, dipping to a level (while still in positive territory) not seen since 2009. An NPMI value of zero percent indicates an equal number of executives are reporting growth and decline.
Diversity, Leadership, and Work-Life Balance
Among the most popular breakout sessions were A/E/C Business Consultant, Bill Hinsley's "Getting to the Right Work-Life Blend," along with Engineering Practice Leader and Partner at Little Diversified Architectural Consulting Jeff Roman's "Become the Leader People Want to Follow" and the women's panel discussion on "Advancing Women in A/E/C Leadership" moderated by Jenifer Navard, Principal and Director of Finance at New Orleans-based architecture firm, Eskew+Dumez+Ripple.
This interactive panel of leading A/E/C women professionals provided a variety of women's perspectives on:
What obstacles do women encounter in firms that prevent them from advancing to leadership positions?

What can firms do to remove these obstacles?

How can firms support development of the following in a gender-inclusive way: a. networking opportunities & rainmaking skills, b. leadership skills, and c. flexible schedules?

What can firms do to ensure leadership mentoring opportunities are gender-inclusive?
"From this discussion, there was an overall recognition that in a firm, diversity is important; a diverse firm is more profitable and promoting gender and racial diversity in a proactive, intentional way on a daily basis creates an environment where all can appropriately feel at home," said Navard.
"At our firm, we have created a gender advisory panel whose role is to raise their hands, press pause and ensure intentional diverse representation, whether it is creating intentional hiring practices or inviting a cross-section of people in the firm to represent a project," she added. "At A/E/C THRIVE 2020, we hope to continue this discussion and take it a step further presenting actionable steps on how to get diversity in your firm and how to create opportunities for voices to be heard."
Looking to 2020 and Beyond
A/E/C THRIVE 2020 will take place in Seattle from October 14-16 and will again provide action oriented and proven strategies to address the issues that matter most, with four breakout session tracks each day addressing the unique interests of key A/E/C decision makers:
Track 1: Principals and CEOs
Track 2: Chief Financial Officers and Finance Managers
Track 3: Human Resource and Talent Leaders
Track 4: Chief Marketing Officers and Business Development Managers
In addition, next year's summit will feature general sessions with keynote addresses from inspiring and experienced leaders ready to share proven insights, real-world case studies and practical steps for taking firms to the next level of growth, profit and performance, along with a value-rich, pre-conference workshop day to maximize the value of time away from the office.
"A/E/C THRIVE is the most valuable conference that our firm attends each year," said James Kleingers, President and CEO, The Kleingers Group. "Keynotes and speakers provide varied, real-world information and advice that always enables us to improve our operations and results."
The Call for Presentation submissions is now open. If you've got a compelling session idea, visit A/E/C THRIVE 2020 to submit your session information online.
About A/E/C THRIVE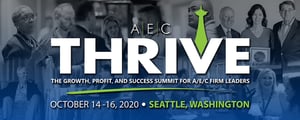 For more than 10 years, North America's leading architecture, engineering and construction firms have gathered at the annual A/E/C THRIVE summit for three days of growth and profit enhancement strategy ideas. This event connects attendees with leaders of top-performing A/E/C firms and other industry visionaries eager to share techniques for maximizing business performance, adjusting to shifting market conditions, and limiting downside risks.