With the final impact of the most recent economic slowdown and recession now behind us, the performance of architecture and engineering firms responding to PSMJ's 2015 A/E Financial Performance Benchmark Survey Report reflects a design industry that is experiencing steady growth.
One indicator of such growth is that A/E firm operating profit margin as a percentage of net revenue (before incentive/bonus payments and taxes) has been on a steady rise in recent years, with the median reaching a six-year high of 14.3% this year, according to the recently released report.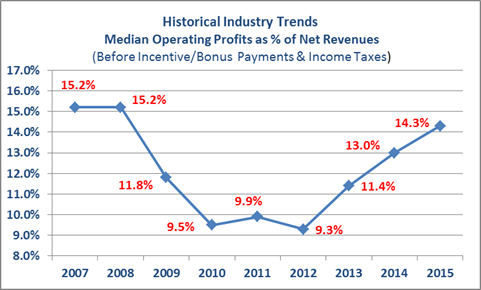 After posting all-time highs in 2007, and remaining stable in 2008, profit margins started to decline significantly in 2009 due to the severe economic downturn. And then, from 2010 to 2012, the median hovered below 10.0%. The good news is that this number has been on the upswing in the past three years, hitting 11.4% and 13.0% in the 2013 and 2014 surveys, respectively.
It is certainly encouraging to see profit margins trending upward, notes Frank A. Stasiowski, FAIA, Founder and CEO of PSMJ Resources. But, there is another side to this coin that can't be overlooked.
"Just because the median has reached 14.3%, that doesn't mean it should be an acceptable profit margin at all for an A/E firm," says Stasiowski, "There are plenty of A/E firms that can and do deliver margins far higher than this. These are the firm leaders who are able to really think differently—about project delivery, about marketing strategy, about value. Deliver a higher value and you can command higher fees…and yield higher profits."
Key questions to ponder for your firm's success
How does your firm's financial performance stack up to industry trends?

How can you make informed changes to overhead, operations or policies that improve profitability and cash flow of your A/E firm?

What metrics can you use to set the bar and drive accountability?
---