No doubt, the role of the HR professional at architecture and engineering firms is becoming more strategic and more critical than ever before. And so, we've canvassed the HR blogosphere for A/E-related HR tips, and found 8 links t
hat HR pros can't do without: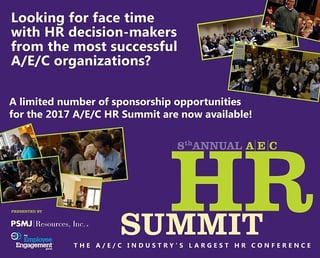 To meet today's fast-changing and competitive A/E/C landscape, HR professionals need the latest thinking on finding the best talent, a solid grasp on emerging trends in ongoing learning, the most innovative and effective approaches to performance management, and much more. There is one place to learn, network, and engage with hundreds of A/E/C HR professionals and senior-level firm leaders just like you. Focused specifically on the A/E/C space, PSMJ and The Employee Engagement Group are hosting our 2017 A/E/C HR Summit on April 19th-21st in New Orleans.
You also might be interested in the HR-related blog posts:
Are Your Employees Engaged, Or Just Satisfied?
Do Your Employees Know Your Salary?
Five Steps to Successful Employee Orientations
How to Turn Employees Into Firm Advocates on LinkedIn
What Are Your Employees Saying About Your Firm?