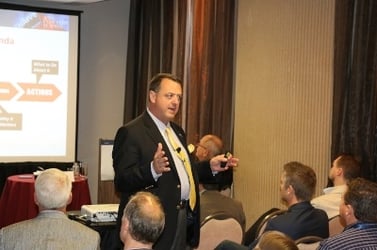 I've been a practicing consultant, educator, and speaker for more than a dozen years now, and I've enjoyed working with scores of organizations and executives on matters of importance to the firm: planning for the future, growing the business, and making more money.
Most of these clients, leadership teams, and audiences have been super-talented professionals themselves, working on their businesses and invested in their careers.
But of course they haven't all been great.
In every audience of a hundred, there are one or two who disagree with my presentation thesis or approach, or come with unrealistic expectations that a single speech will reveal all the answers (and of course answers they've never heard before.) Some attendees are instinctively negative or chronically unsatisfied. A few don't care for my kinetic style or hyperbolic pitch. Some are simply upset that the room is too hot (or too cold), or that the sandwiches weren't very good, or that the presentation was on a Tuesday.
Speakers are regularly counseled not to overly invest in these one-off negative comments. (You can't please everyone.) And I believe that real leaders must challenge the status quo—which sometimes involves upsetting a few (or many) along the way. And so I get over it and push on—though sometimes too slowly.
I've had some bad consulting clients as well—and "bad" for different reasons.
For instance, a couple of years ago, I went back and forth with a prospective client who turned out to be a really poor fit (and who thankfully eventually chose someone else.) This CEO was a nice enough guy, and quite accomplished, but he was demanding beyond reason, and (very importantly) didn't hold himself up to this same expectation. We had to drop everything for him repeatedly, to act on a moment's notice, to invest our best and brightest on his work. But he wouldn't respond to us, didn't engage when we needed him to, and let our project atrophy on the vine. When he did reemerge, the delay was inevitably always someone else's fault.
In retrospect, it was all too clear early on that our fit was poor. I didn't (or wouldn't) see it - because the project was sexy, and because the fee was quite large. The ultimate result was wasted time and emotional energy, and still no project. That's a bad client.
Another example: Several years ago I completed two different (but similar) projects for two larger firms. Both involved working directly with and alongside the CEO to effect dramatic improvement through strategic planning and organization change. In both cases the opportunity was huge, and the leadership team invested considerable time and effort in creating a plan and several strategic initiatives. And in both cases, these separate CEOs eventually became the problem themselves—per se—intransigent wrenches in the flywheel. More interested in griping about the situation rather than leading the change. And for me—bad clients. (Both were eventually sacked from their roles as firm leaders.)
Early on, these two didn't look like the poor fitting clients they turned out to be. Both were accomplished, talented, and interesting fellows, and I had (and still have) a strong connection with each. Both seemed genuinely concerned for their companies, and optimistic about the potential for change. And yes, both projects had big engagement fees. Still a true professional must demand results, and it does me little good to invest my effort with leaders who either can't or won't change. Final score: bad clients.
Finally, I'm remembering today a planning project I had with a client that didn't go so well, and the client wasn't (at first) very happy. To that point I don't believe I'd ever really had this happen. I came, I saw, and I performed – but I did not conquer. Eventually I did turn this project (and client) around by honoring my guarantee: to keep working on the project until the client was satisfied. (But candidly, it was painful.)
Ultimately the problem here was poor fit - a personality mismatch between the client lead and me, along with some specific project expectations that weren't communicated very well. Each and every project has this sort of risk, and the solution is usually to communicate more, to keep testing, to continuously adjust.
So what's the take home lesson of these "bad" client experiences in my world—and yours?
First, you've got to be vigilant— and picky— in choosing your clients. It can't be about getting the next job or the next fee. Instead you have to be primarily about executing a successful engagement. And by the way, the trick to being more selective is to have more clients— and too much work to do. That's the fundamental problem with 90% of professionals.
Second, check in repeatedly with the client along the way. Are we on track? Is this what you expected? Do we need to shift our focus and effort to ensure we achieve the engagement objectives? And don't just ask the questions – you must also be agile enough to really do the adjusting.
Third, you've got to be bold. Clients don't need you to act like another middle manager in their firm. They need expertise, initiative, and action. You're hired to tell it like it is, and to suggest real world strategies for making it better. And to accomplish this you must be willing to think and act differently, and to take risks that others won't. You need to (as the saying goes) come to work each day willing to be fired. I haven't yet been fired from a project, but I'm always cognizant of the idea, and often push as hard as I can towards the edge.
We're all taught early in life (usually by a well-meaning adult) that we can't win them all. I get the notion, but don't always believe it. I think I'm the exception, and I really can (through superior talent, intellect, creativity) win them all. Of course that doesn't make much sense, but it's often who I am.
So I've had hundreds of good (or great) clients along the way – and a few that didn't go so perfectly. I'm OK with that. Time to push on.
About the Author: John Doehring is Executive Leader of Advisory Services and Training at PSMJ Resources, Inc., and is responsible for the company's consulting and in-house training business worldwide. J

In PSMJ's complimentary ebook, Successful Strategic Planning For A/E Firm Leaders, you'll find specific suggestions to help you think of "planning" as something you do all the time, tending to it at regular intervals—as a process that never ends and an ongoing part of running a successful business.
Other strategic planning related blog posts:
8 Tips For Making Your Strategic Planning Meeting A Success

Get Strategic With These Planning Questions

Establishing Your Strategic Plan

Where Does M&A Sit in A/E Firm Strategic Planning?