PSMJ's A/E Compensation Benchmark Suite data reveals huge pay and bonus bumps for key architecture and engineering firm professionals, but it all depends on what you do and how long you've been doing it. .
FOR IMMEDIATE RELEASE

JUNE 16, 2022 (NEWTON, MA)— Record-setting inflation and robust demand for architecture and engineering (A/E) services are driving up base salary and bonus increases in 2022, according to data in the just-released 2022 A/E Compensation Benchmarking Suite from PSMJ Resources. But the raises aren't uniform, and employers in this space are hedging their bets when chasing scarce and pricey talent.

"The biggest pay bumps are going to those with less than 5 years of experience in the A/E industry, which points to ongoing entry-level retention challenges for many firms" says PSMJ Principal and Senior Data Analyst David Burstein, P.E. "This is creating salary compression that will have a ripple effect for many years to come."

Burstein's analysis comes from data found in PSMJ's just-launched 2022 A/E Compensation Benchmarking Suite, the online portal for architecture and engineering firm executives and HR leaders charged with balancing the need to find and keep skilled employees with hitting financial performance targets. This new tool incorporates compensation survey responses from 267 architecture and engineering firms and reflects the pay of thousands of individual employees and managers. Representing the most current salary, bonus, and total compensation for 18 A/E management titles and 66 A/E staff positions, the portal allows users to break down data within peer groups reflecting different firm sizes, geographic area, types of services, and types of client.

"The biggest pay spikes are for interior designers, which may be a result of intensive work in this area due to post-COVID office space repurposing," Burstein continued. "The next largest increases are for structural engineers. In management roles, we're seeing large increases for business development, HR, and Director of BIM Services roles. The latter is enjoying combined pay and bonus increases 120% larger than last year's."

"A really interesting finding is that A/E firms are hedging their bets by going larger on bonuses and smaller on raises, indicating a concern with being permanently locked in to higher compensation expenses. This points to uncertainty about continued business growth in certain market sectors."

PSMJ's A/E Compensation Benchmarking Suite provides users with multiple data sets and decision-making resources, including the 2022 A/E Management Compensation Benchmarking Survey Report, the 2022 A/E Staff Compensation Benchmarking Survey Report, Excel-based comparison tools, and A/E temp, contractor, and intern compensation survey data. To learn more visit www.PSMJ.com/CompSuite.

About PSMJ
For more than 40 years, PSMJ Resources, Inc. has been recognized as the world's leading authority, publisher, and consultant on the effective management of architecture, engineering, and construction firms. With offices in the United States as well as the United Kingdom and Australia, PSMJ offers over 150 titles in book, audio, and video format. In addition, the company publishes a monthly newsletter, and delivers dozens of seminars, roundtables, conferences, webinars, and in-house training sessions every year for A/E professionals around the world. PSMJ's sought-after consulting expertise covers a range of critical business areas such as strategic planning, project management, valuation, succession planning, and mergers & acquisitions. PSMJ is also active within the community, utilizing our resources and the contacts at our fingertips within the A/E/C Industry to help those in need.

For additional information, please contact:
Gregory Hart
PSMJ Resources, Inc.
10 Midland Avenue Newton, MA
02458
617-965-0055
www.psmj.com
###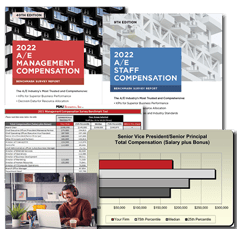 Make smarter staff and management compensation decisions when you have the most current benchmarking data at your fingertips. PSMJ's A/E Compensation Benchmarking Suite gives you everything you need to win A/E talent battles, optimize your largest expense, and keep your best people from looking elsewhere. Click here to learn more.