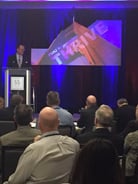 Anyone interested where the architecture, engineering, and construction (A/E/C) industry is headed in 2016 and beyond, would have emerged from last week's A/E/C Industry Summit, armed not only with a clearer perspective of the future, but also many tips and tools to implement today for firm success in 2016.
Held in San Fransisco, this annual conference brought together leading A/E/C professionals for two days of eye-opening keynotes and break-out sessions, all delivered by some of the industry's leading visionaries and thought leaders.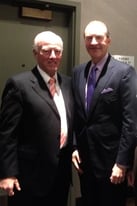 Keynote headliners included Charles L. "Chuck" Harrington, Chairman, Chief Executive Officer, and President of Parsons Corporation—a global defense/security, industrial, and infrastructure integrated solutions provider headquartered in Pasadena CA.
In his keynote, "How Parsons Created an Employee Plan that Benefitted Thousands, "Chuck (pictured here with PSMJ CEO Frank Stasiowski) recounted the story of how Parsons and its employees achieved this financial success and their lessons learned along the way. In addition, he shared his thoughts on what leaders considering a similar path can do to apply these lessons to their firms' future path.
This year's event also featured an exhibit of 15 sponsor companies, including Deltek, BQE BillQuick, and Corporate Tax Advisors, among others. Exhibitors not only showed off their technology solutions and business service offerings, but also participated as speakers in the learning sessions.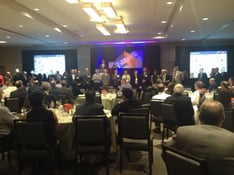 In addition, PSMJ's A/E/C Industry Summit was an opportunity to celebrate the industry's recent successes as well as its top-performing firms, the 2015 Circle of Excellence members and 2015 Premier Award winners, at what was a festive and high-energy awards ceremony and after-party.
Hot topics abound. The conference's 30 standing-room only breakout sessions were packed with tangible insight and strategies on such topics as client satisfaction, employment engagement, technology and design innovation, and firm success and growth.
Among the hot-button issues for A/E/C firms today is the search for talent. In fact, it was the major topic of discussion at a networking breakfast of Circle of Excellence members. Participants shared their concerns as well as some of their best practices in finding and keeping quality talent.
Meanwhile, PSMJ's David Burstein addressed the issue head-on in his host keynote "5 Exploding Markets in the Next 5 Years," a state of the industry presentation he gives every year at the Summit. Among the first indicators of the crunch for talent is changes in turnover rate.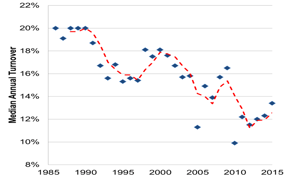 "Based on a three-year moving average, what you find is that the trend in turnover decline has reversed," Burstein says. "There is a turning point in recent years, where we see employee turnover is going up. That creates additional demand for people."
Moreover, he adds, "firms are growing again, increasing the demand for talent. We reached a peak of 1,450,000 employees in the A/E industry before the recession. We are coming pretty close to reaching that peak right now."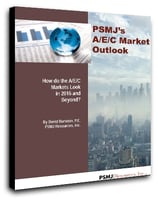 David Burstein's A/E/C Market Outlook presentation is available as a complimentary ebook. He will also present his findings in a complimentary webinar: 2016: Where are the Opportunities? What are the Risks?