Water The Bamboo: Unleashing The Potential of Teams and Individuals
Publisher: Three Star Publishing
Date Published: 2009
Number of Pages: 169
Availability: In-Stock
Format: Soft Cover
Price: $14.95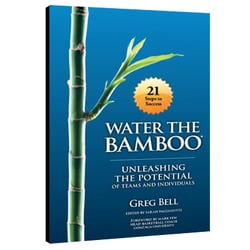 When giant timber bamboo grows, it will rocket up an astonishing 90 feet in 60 days. Now that is amazing growth in a short period of time.
But most people do not realize that bamboo farmers tend the bamboo plants for at least three years before they see any signs of growth.
In Water The Bamboo®, Greg Bell, JD, asks business leaders if they have the kind of vision, faith, patience, persistence, and focus to achieve their goals? The book presents a metaphor for individual and team success.
In 21 steps, this timely, quick read helps individuals and teams refocus on their core values and mission to achieve long-term success. Through simple exercises and practical examples, Water The Bamboo® helps you:
Set a vision for your business
Generate results
Build a network of support
Apply laser-like focus