Ultimate Public Works Project Management Manual
Publisher: PSMJ Resources, Inc.
Date Published: 2015
Number of Pages: 506
Availability: In-Stock
Format: PDF
Price: $347 (Free with a PSMJ Membership. Click here to become a member.)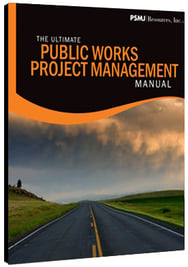 While there are certainly some similarities between a private-sector Project Manager and Public Works Project Manager, there are numerous variations that can lead to substantial differences in how to effectively manage the moving parts of a project. For starters, Public Works Project Managers need the unique skillset and know-how to select the best consultants, negotiate scope, schedule and budget, and deal with elected officials and the public in a very direct manner.

The Ultimate Public Works Project Management Manual is packed with project management approaches designed specifically for the Public Works Project Manager. But, more than just general explanation, this must-have manual will provide you with the tools that you can start using immediately!

There is no better resource to boost your efficiency and effectiveness on:


Managing multiple projects
Controlling the schedule and budget
Managing changes that inevitably happen
Getting your projects closed out and accepted
Selecting and managing design firms and construction contractors
And more.

With plenty of templates, worksheets, real examples, and checklists, this manual is the go-to resource for action-oriented strategies and tactics! Just some of the topics covered in this value-packed manual include:


7 steps to developing an effective project schedule
Common mistakes made in budgeting
The 80/20 rule of project communications
Tips for document processing and control
6 ways to improve contractor relations
And more.

Order your copy of The Ultimate Public Works Project Management Manual today! Contact us at (800) 537-7765 or at customerservice@psmj.com to learn more about attractively-priced site license and editable Microsoft Word versions of this manual.