A TRUE NIGHTMARE STORY OF ONE A/E/C FIRM'S BUY/SELL AGREEMENT DISASTER:
If it's not written, it doesn't count.
One design firm held the philosophy that, among partners, everything doesn't have to be written down. Their simple, one-page buy/sell agreement stated the value of the company and said that the three partners would decide together how to handle any issues. They also agreed that, on death, payout would be over a long period of time.
Everything worked out fine until one partner died. That partner's spouse contended that the firm was worth more, and demanded the one-third payout all at once.
The remaining partners had to undertake long-term personal debt to fund the payout and the firm shrank from 38 employees to six while the partners defended an agreement that had no written terms or conditions.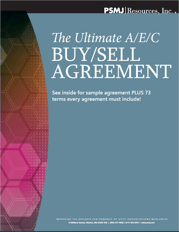 Reduce Guesswork and Risk In Your Ownership Transition Plan
Does your A/E/C firm's buy/sell agreement have a fatal flaw that could cost you (or your firm) big money?
The Buy/Sell Agreement (also known as an operating agreement or shareholders agreement) is the most fundamental document underlying the allocation and transfer of ownership in your firm.
Without it (or with a flawed agreement in place), you put yourself, other shareholders, your employees, and even your clients at risk should an untimely departure of a principal or other unforeseen event impact the ownership structure or capitalization of your firm.
Ready for the good news? We're making it easier than ever to find and fix flaws in your agreement. Don't even have an agreement in place yet? Look no further!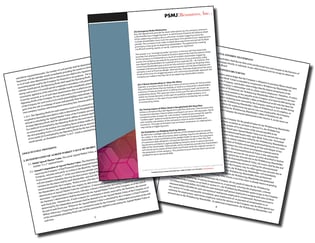 PSMJ's new The Ultimate A/E/C Buy/Sell Agreement tool makes it fast and easy to craft an A/E/C specific agreement for your firm. Developed by PSMJ's ownership transition planning experts, this time and money saving resource gives you 73 battle-tested terms that you MUST consider for your agreement (before it is too late) PLUS a model agreement you can use as the basis for building your agreement.
Don't spend thousands of dollars on lawyers and accountants to start from scratch… or make the mistake of amending some generic agreement that has absolutely no consideration of the unique needs of an architecture, engineering, or construction firm like yours!
Just some of the key terms addressed in this must-have resource include:
Valuation under various circumstances
Capital obligations and note guarantees
Stock transaction timing
Mandatory selldown provisions
Spousal bankruptcy
Key person life insurance
Minority owner rights
And much more!
Each and every one of the 73 terms comes from PSMJ's four decades of experience advising on A/E/C ownership transition plans of all shapes and sizes. We've seen virtually every challenge, every unintended consequence, every type of dispute…and it is all boiled down into one easy-to-understand guide ready for you to download now!

What are your options for developing your Buy/Sell Agreement?