The Value Pricing Imperative for Design Firms
Publisher: PSMJ Resources, Inc.
Date Published: 2013
Number of Pages: 182
Availability: In-Stock
Format: Hardcopy & PDF
Price: $97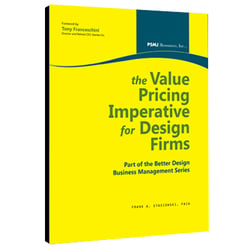 In any economy, the future is yours to control. But, only if you aggressively mold your pricing, marketing, and service structure necessary to prosper! Now more than ever, you must develop a strategy for prosperity that does not ignore the growing economic and societal forces at play.
"In The Value Pricing Imperative for Design Firms, Frank encourages us to become smarter engineers and to become more valuable to our clients. Frank has helped us find the part of our business that creates the bond between us and our clients that's nearly inseparable. He teaches us to be always engaged with our client all the time. I'm not just a reader, I'm a disciple."
-Steve Chase, Executive Vice President & Principal, TES Engineering
Traditional A/E/C practice is out...consulting is in. The most successful firms have moved out of design "production" and into client consulting. In The Value Pricing Imperative for Design Firms, you learn exactly what you need to do to develop and implement a competitive pricing strategy for your architectural and engineering firm.
This book is packed with proven practical advice on managing cost, contract types, pricing change orders, cost accounting techniques, negotiating methods, liability considerations, bidding approaches and much more. Specific areas covered include:
Three ways to present value pricing
Miniscoping
Pricing reimbursables
Pricing change orders
Project cost control
Fee negotiations
Liability management
And much more
The Value Pricing Imperative for Design Firms holds the potential to revolutionize your business. Learn what thousands of your peers and competitors have already learned about effective value pricing.
The Value Pricing Imperative for Design Firms features a foreword by Tony Franceschini. As a Director of Stantec and CEO from 1998 to 2009, Tony was a key player in the company's significant growth during this period.