Position Your Firm for Future Success: The Ultimate A/E Strategic Planning Manual
Publisher: PSMJ Resources, Inc.
Date Published: 2019
Number of Pages: 424
Availability: In-Stock
Format: PDF
Price: $597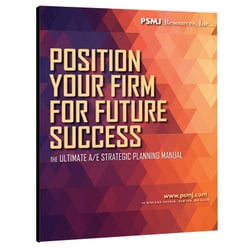 The Most Successful A/E Firms Think of "Plan" as a Verb—Something They Do All the Time. Position Your Firm for Success in the Future with the Ultimate A/E Strategic Planning Manual.
A/E firms often think of "plan" as a noun, and so are apt to write a nice neat document, tuck it into a three-ring binder, and let it gather dust on a bookshelf—while they make their day-to-day decisions and react to events with little or no thought to a long-term direction.
Better to think of "plan" as a verb instead—something you do all the time, tending to it at regular intervals—a process that never ends—an ongoing part of your proactive approach to the marketplace and to running your business. This is the practice of the A/E industry's top-performing firms.
Position Your Firm for Future Success: The Ultimate A/E Strategic Planning Manual assists CEOs and other senior principals in developing strategic plans that not only address the strategic issues facing your firm, but also outline the actions required to set your firm on course to future success. Like its predecessor—PSMJ's 2004 manual, Strategic Planning—this updated edition covers the strategic planning process from beginning to end—from planning and facilitating the strategic planning meeting, to developing the contents of your strategic plan, and finally implementing and communicating the final plan within your firm.
At the heart of this 424-page manual is PSMJ's Strategic Planning Wheel©, a model that identifies the key arenas that should be addressed in a strategic plan. New to this edition is an updated chapter on information technology that tackles the ongoing challenge of keeping up with the pace of technological change, and how firms can address it in their strategic planning.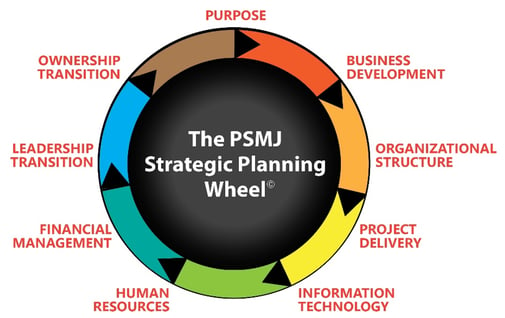 Position Your Firm for Future Success: The Ultimate A/E Strategic Planning Manual provides insight from PSMJ's strategic planning experts on actions required to be successful in each arena. These time-tested professionals also share their hard-won lessons for mastering each aspect of the strategic planning process, including:
Who Should be Involved in the Planning Process
Finding the Right Facilitator
Establishing Measurable Goals
Creating the Right Culture for Your Firm
Developing Your Strategic Plan
Communicating the Plan
Adjusting as You Go
Pitfalls to Avoid