The New Rules of Marketing & PR
Written By: David Meerman Scott
Publisher: Wiley
Date Published: 2017
Number of Pages: 448
Availability: In-Stock
Format: Hardcopy
Price: $24.00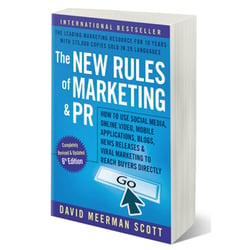 Keynote speaker at THRIVE 2017: The A/E/C Growth, Profit and Performance Summit, David Meerman Scott's international bestseller The New Rules of Marketing & PR is the guide to the future of marketing. In The New Rules of Marketing & PR, you′ll learn how get the right information to the right people at the right time at a fraction of the cost of traditional advertising.
The Internet continues to change the way people communicate and interact with each other, and if you′re struggling to keep up with what′s trending in social media, online videos, apps, blogs, or more, your service is bound to get lost in the ether.
In The New Rules of Marketing & PR, you′ll get access to the tried–and–true rules that will keep you ahead of the curve when using the latest and greatest digital spaces to their fullest PR, marketing, and customer–communications potential. Keeping in mind that your audience is savvy and crunched for time, this essential guide shows you how to cut through the online clutter to ensure that your message gets seen and heard.
Serves as the ideal resource for entrepreneurs, business owners, marketers, PR professionals, and non–profit managers
Offers a wealth of compelling case studies and real–world examples
Includes information on new platforms including Facebook Live and Snapchat
Shows both small and large organizations how to best use Web–based communication
Finally, everything you need to speak directly to your audience and establish a personal link with those who make your business work is in one place.