Painless Project Management
Publisher: PSMJ Resources, Inc.
Date Published: 2013
Number of Pages: 425
Availability: In-Stock
Format: PDF
Price: $97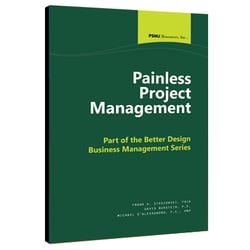 Painless Project Management spells out your project management role from business development all the way to overcoming budget problems and exceeding client expectations every step of the way. In other words, Painless Project Management teaches you everything you need to be a superior project manager in today's most competitive architectural and engineering firms!
Build deeper client relationships, deliver stronger financial performance, and stand out from the pack in your architectural and engineering firm.
In this 425-page hardcover book, you learn proven strategies and tactics:
The FOUR "R"s of superior client service
Coping with mid-project changes
How to give a ten-minute, on-the-spot training session!
Avoiding 7 indelible pitfalls
Atypical proposals—and the challenges they may present
Avoiding creeping job costs
How to make sure you aren't ensuring poor profitability
Proper project management best practices can help you give your clients the highest quality work, prevent costly change-orders, and make you look like a superstar PM! Painless Project Management will teach you these best practices and give you the tools to become the best PM on your team.
Project management can be hard at times, but doing it right can mean the difference between a business that soars and one that sinks. Painless Project Management makes it simple by cutting through the jargon, formulas, and needless complexity with an easy, step-based approach for managing virtually any project, big or small, from beginning to end.
Remember, projects are the lifeblood of your architectural and engineering firm and even with the best marketing and accounting, no firm can succeed without winning project management strategies. PSMJ's Painless Project Management gives you the confidence and insight to make the right decisions. And, don't forget that all of the rock-solid advice featured in Painless Project Management comes DIRECTLY from the success of architecture and engineering design firms just like yours! Let their successes be yours by bringing these very "doable" tactics to your next project!
The book also comes complete with numerous forms useful for self-analysis, evaluation, and action as well as a convenient glossary of terms, checklists, and references to more specialized reading. A must for design firm managers determined to boost their firm's bottom line and their performance level, Painless Project Management is a blueprint and handbook for restyling your PM skills into PM Best Practices!