Navigate The Hurdles To M&A Success: The Ultimate A/E Merges & Acquisitions Manual
Publisher: PSMJ Resources, Inc.
Date Published: 2018
Number of Pages: 328
Availability: In-Stock
Format: PDF
Price: $247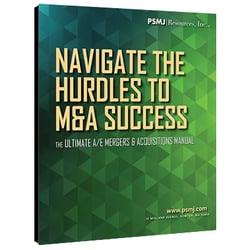 You always move ahead with confidence—don't stop when it comes to a critical acquisition, merger, sale, or spin-off. Strategic information fuels your firm's most demanding decisions. And what could be more tactical or serious than pricing your firm for optimal value, securing an acquisition, merging with a firm with a like culture, or selling and retiring?
Don't allow your next merger and acquisition opportunity catch you unprepared.
Given today's economy, firm leaders know an acquisition of a profitable firm is a fast track to high revenue growth. Sustained growth can come with a move into new market, the acquisition of specialized expertise, or a move into a favorable location. They understand that strategic partnering can bring success closer—especially if another firm is a good cultural fit.
The M&A process is risky and often uncertain. And there are plenty of opportunities for the uninformed to make some catastrophic mistakes.In this value-packed manual, PSMJ covers everything from painting the picture of today's M&A climate all the way through to closing and integration. Here's a peek at what you get:
The right way to approach M&A
Building the "deal" team
Shrinking world and international markets
What not to do when you get an unexpected offer
The basics of firm valuation; PSMJ's approach
How to value intellectual capital
13 ways to find the right fit
What really goes into due diligence
The who and when of transparency
And much more
Navigate the Hurdles To M&A Success: The Ultimate A/E Mergers & Acquisitions Manual offers up hundreds of pages of insights and advice, backed up by innovative thinking that only the successful PSMJ advisers can make. PLUS, you get dozens of tables, charts, worksheets, and templates to get on track for success!