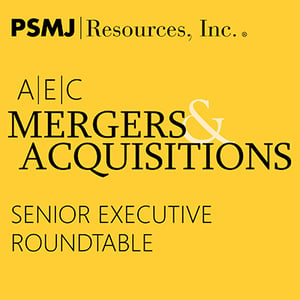 Upcoming Program Dates and Locations:
March 10-11, 2020
Naples, FL
May 19-20, 2020
Nashville, TN
How to Get the Highest Valuation of Your Firm
In today's hot market conditions, many successful architecture and engineering firm owners are fielding acquisition inquiries every single day. If you are thinking that this may be a good time to create some liquidity and facilitate ownership transition, one of the best things you can do is get a valuation of your firm. Of course, valuation is just one aspect of a good transaction (deal structure and other terms and conditions can have a big impact on your after-tax proceeds). This will be your best resource to separate the low-ball offers from the good ones.
Here are some tips to consider when looking at the value of your firm:
Create institutional and transferable value!
If you anticipate selling your firm, take action to...
Create an identity for the firm that is separate from any one individual.

Have a clear focus of activity and clearly defined markets.

Achieve an appropriate size to support a particular buyer's strategy. (Revenues and profits must allow new owners to recoup their investment.)

Show consistent profit earnings.

Demonstrate consistent cash flow potential for the new owner.

Show a reliable amount of repeat work and clients.
Avoid these valuation mistakes!
Do not value your firm using the following methods:
How much the owner needs to comfortably retire.

Valuations more than two years old. Just because your design firm was worth $500,000 a few years ago, there's no guarantee that it's worth that amount plus inflation now. It may be worth more. Value is subject to current market conditions and past and potential profitability, not cost of living.

How much it would cost to replace the firm or build a new one. Replacement value is cost driven; firm value is market driven.

An offer from an outside buyer. Do your valuation first, then consider the offer.

How profitable your firm should be. Valuation is based on a combination of actual and potential performance.

How profitable you were 10 years ago. This is ancient history.

How much another firm sold for. Each seller and buyer is unique.

Book value. You'll vastly undervalue your firm if you count on book value.

Rules of thumb. Guidelines like multiplier of book value, earnings multipliers, dollars per staff, and others can contribute to your valuation, but they don't tell the whole story of what your firm is worth at this particular time to a particular buyer.
Ready for practical guidance on how to make smarter M&A decisions?
Just a few examples of costly mistakes firm leaders made because they didn't attend this program:
Paid 2x fair market value for an acquisition because the buyer was using a flawed valuation formula

Structured an earnout that was so complicated only a judge could figure it out (and, unfortunately, she did!)

Lost a key rainmaker because of poorly-timed and sloppy transaction announcements to staff

Missed a great acquisition because one shareholder thought "all deals are bad deals"

Only pursued companies that were actively for sale because "they were the easiest to close"

Had to dump money into the acquisition to fund operations because the buyer missed serious problems in due diligence

Seller got so locked in on selling for the highest price that he agreed to lousy terms that netted lower after-tax proceeds