Lead with Profit Fundamentals: Maximizing Engineering Firm Profits
Publisher: PSMJ
Number of Pages:
Volume 1: 258
Volume 2: 100
Availability: In-Stock
Format: Hardcopy & PDF
Price: $97 - $194
---
Financial Stress Test Tool 6.0
Publisher: PSMJ
Availability: In-Stock
Format: Excel
Price: $57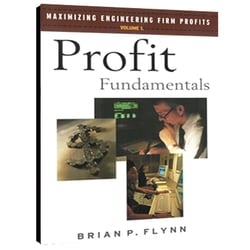 You lead a team of creative, focused, and dedicated A/E/C professionals, working harder than ever to exceed client expectations, deliver on schedule and budget commitments, and win repeat business. So why isn't your firm achieving breakthrough PROFITS?
This year, top performing A/E/C firms increased profits by as much as 40 percent. In Lead with Profit Fundamentals: Maximizing Engineering Firm Profits Brian Flynn explains the secret to superior profitability. He covers the practice and art of profitability in any economy including a closer look at Expense Ratio, Utilization, and Multipliers.
Flynn explains the factors that affect your firm's financial performance, with a deep-dive into such business concepts as:
Control and recovery of overhead costs
Maximization of time spent on project work
Pricing of labor
And more!
The companion workbook, Increasing Revenue and Profit, provides over 100 practice exercises that tie directly with and solidify the concepts in Flynn's first volume. Increasing Revenue and Profit is packed with information on pricing and profitability, increasing revenue, and marketing efficiency.
To learn more about A/E firm profits, check out these recent episodes of the PSMJ podcast where Brian Flynn goes into more detail about how you can maximize your firms profits.