Managing Quality in Architecture, Second Edition. Integrating BIM, Risk, & Design Process
Written By: Charles Nelson
Publisher: Routledge, Taylor & Francis Group
Date Published: 2017
Number of Pages: 361
Availability: In-Stock
Format: Paperback
Price: $60.95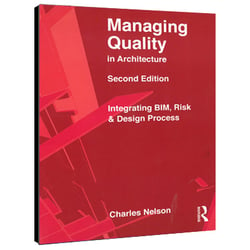 Managing Quality in Architecture, Second Edition. Integrating BIM, Risk, & Design Process offers design professionals an update, practical quality management resource. Completely revised throughout, this edition helps architects, engineers and other designers working in the built environment to develop appropriate quality systems.
Replete with case studies in quality, Managing Quality in Architecture, Second Edition covers the following:
Why Quality?
Creating efficient and effective quality systems
The role of leadership and planning in quality
Integrating BIM, risk, and design process
The latest edition also addresses the new ISO 9001 standards—the global standard for quality. Firms certified under the 2008 edition have three years to upgrade their quality systems to the new Standard. More importantly, this resource examines the 2015 Standard that integrates risk management with quality. Similarly, the role of BIM in quality management is addressed as an integral part of practice.
International contributions from the USA and Australia provide expertise in each topic, and case studies from the USA, Japan, Australia, New Zealand and the United Nations Office of Project Services provide easy-to-follow illustrations of the important areas to understand.
To listen to author Charles Nelson speak more on the subject of managing quality, listen to his recent appearance on the PSMJ podcast below.