A/E Mergers & Acquisitions Manual and Study Bundle
Publisher: PSMJ Resources, Inc.
Date Published: 2018 & 2019
Availability: In-Stock
Format: PDF
Price: $247 (A/E Mergers & Acquisitions Study included FREE)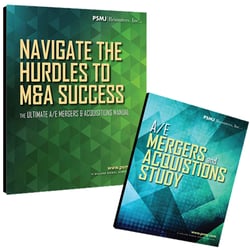 Navigate the Hurdles To M&A Success: The Ultimate A/E Mergers & Acquisitions Manual offers up hundreds of pages of insights and advice, backed up by innovative thinking that only the successful PSMJ advisers can make. PLUS, you get dozens of tables, charts, worksheets, and templates to get on track for success!
Here's a peek at what you get:
The right way to approach M&A
Building the "deal" team
Shrinking world and international markets
What not to do when you get an unexpected offer
The basics of firm valuation; PSMJ's approach
How to value intellectual capital
13 ways to find the right fit
What really goes into due diligence
The who and when of transparency
And much more
In the A/E Mergers & Acquisitions Study: How Today's Most Successful Firms Grow through Acquisition, we present the results of a study that PSMJ conducted regarding merger and acquisition (M&A) practices in the architecture and engineering (A/E) industry.
With a total of 122 participants, this study covers a variety of elements related to high‐level M&A strategy as well as the nuts and bolts of putting together a successful transaction. It also covers how A/E firms are planning for future M&A opportunities: what their goals are as well as the elements of the M&A process they find the most challenging.
You always move ahead with confidence—don't stop when it comes to a critical acquisition, merger, sale, or spinoff. Buy Navigate the Hurdles to M&A Success— The Ultimate A/E Mergers & Acquisitions Manual and receive PSMJ's newest study, A/E Mergers and Acquisitions Study for FREE.