Increasing Firm Competitive Advantage Through Use of an Employee Stock Ownership Plan
Publisher: Urlink Publishing
Date Published: 2019
Number of Pages: 99
Availability: In-Stock
Format: Paperback
Price: $12.99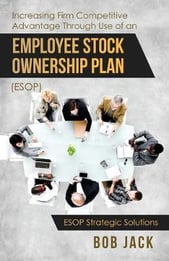 Amid one of the most competitive job markets in history, A/E/C firm leadership are ready to consider any tool that may give them an advantage when it comes to recruitment, retention, and alignment of individual performance with firm performance. As the number of employee stock ownership plans (ESOP) has decreased, and the number of employees covered by them has increased, Bob Jack feels that with the right leadership, ESOP can lead to "a special employee ownership culture."
In Increasing Firm Competitive Advantage Through Use of an Employee Stock Ownership Plan (ESOP), Jack offers insight on how design firms can gain employee commitment, a takeover defense strategy, a plan for succession strategy, and a foundation for a good corporate culture. With this book, you learn...
What is it like to go from publicly-traded to employee owned?
How well does worker enterprise and capitalism motivate employees?
Can you gain Millennial commitment through ESOPs?
Communicating the rewards of retirement distributions.