IMPACT 2030: Disruptions In The Design Industry Upending A/E Firm Strategic Plans
Publisher: PSMJ Resources, Inc.
Date Published: 2019
Number of Pages: 220
Availability: In-Stock
Format: Hardcopy or PDF
Price: $47
---
In-House Consulting and Speaking Engagements
PSMJ Founder and CEO Frank A. Stasiowski, FAIA is frequently sought out to assist design firm leaders to tackle their most pressing business challenges, deliver inspiring keynote sessions, facilitate action-oriented leadership meetings, and more for A/E/C industry associations.
At the heart of every assignment or speaking engagement is Frank's high-impact energy and passion to push design firm leaders to think differently about strategies for long-term sustainable growth.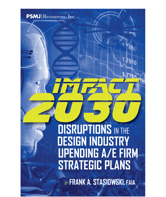 In the architecture and engineering industry of the future…
Client relationships with their buildings will begin with the RFP
Integrated project delivery will improve project and data management
New disciplines like coast engineering, geoengineering, and other climate-integrated specialties will emerge as essential service providers
Predicting how client demands, design techniques, environmental conditions and financial forces will change over the next decade? In a fluid and dynamic industry like A/E/C, that's a challenging exercise.
Yet studying and applying educated predictions about the years ahead for the design and construction industry may be the only way to prepare for and positively control your firm's future.
As clients demand that work be delivered faster, and as the workforce gets younger, and we increasingly rely on emerging technology to balance cost pressures, nowhere are specific changes discussed in terms of how they affect long term strategic decisions for architecture and engineering principals.
IMPACT 2030 outlines how demographics, globalization, government expansion, and technology advances can benefit firms that plan ahead — and be devastating for those that don't prepare.
As a leading industry voice, PSMJ Founder and CEO Frank A. Stasiowski, FAIA examines the state of our industry today and reveals the disrupters that will radically alter it by 2030. Just as a far-off earthquake can cause a Tsunami, forces and trends building now will shake the traditional design industry:
Clients visiting buildings not yet constructed
Mistake-free designs with liability reduced to zero
Building made to throw away and infrastructure developed to collapse
And more...
Frank made bold yet accurate predictions about A/E/C practice management and strategic shifts in the '80s, '90s, and '00s. Nearly all have come true. Those who integrated his prognostications have reaped the rewards.
Planning for success relying solely on past results means certain failure. Stretching your mind to engineer your next decade may be a scary proposition, but essential given inevitable changes.