How to Get the Best Clients at the Highest Fees
Publisher: PSMJ Resources, Inc.
Date Published: 2013
Number of Pages: 138
Availability: In-Stock
Format: Hardcopy & PDF
Price: $97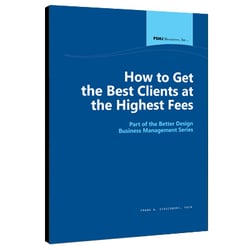 Clients are lining up at your door. They happily pay the highest fees that you could expect and they are all wonderful to work with. Sound like something that can only be interrupted by a buzzing alarm clock? It isn't!
This dream is a reality for many of your peers and competitors in the architectural and engineering space. It is a reality for virtually any A/E/C firm that can understand and act based on one simple truth...clients are willing to pay high fees for high value.
Unfortunately, too many A/E/C firms are just selling their time. This business model does nothing but perpetuate the reality that design has become a commodity for many firms. And, in today's economy, this is only exacerbated by more firms chasing fewer jobs.
In How to Get the Best Clients at the Highest Fees, you learn about the specific factors that you need to synchronize to generate high fees and high profits for your architectural and engineering firm. You learn how to:
Truly understand your clients and their needs
See how clients value your firm
Create a "wow" factor
Choose the right clients
Differentiate your firm from the competition
And much more to get your clients cheerfully paying the fees you deserve!
There is no need to ever win proposals based on bids ever again. Learn specifically how to PRICE YOUR VALUE, exceed your client's expectations, and build ongoing professional relationships.