High Impact Proposals
Publisher: PSMJ Resources, Inc.
Date Published: 2013
Number of Pages: 103
Availability: In-Stock
Format: Hardcopy & PDF
Price: $97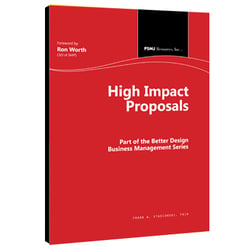 In today's hyper-competitive landscape, you always need to be thinking about effective strategies and tactics to boost your proposal hit rate. As a busy architecture or engineering firm leader, you can't rest on what has worked in the past and you certainly can't leave anything to chance. You need the inside scoop. You need the proven A/E-specific tips to get your hit rate going nowhere but up.
Whether you know that your proposals need an overhaul or just want some inside tips from the experts on how to improve, PSMJ's High Impact Proposals is for you. This compilation features some of our best-selling and most popular articles and thinking on what it takes to build a proposal that gets you the job.
This hardcover book is packed with insight on key points such as:
The anatomy of a proposal
Making the benefits all about the client
What you need to know about RFP compliance
Crafting a winning 'attack' letter
19 steps for a perfect proposal
4 errors to avoid when preparing the scope
7 tips for a killer Q&A session
And much more!
High Impact Proposals puts the tools that you need for success right at your fingertips. Ever wish you had the secrets for proposals that keep them talking? How to make your proposal shine and stand out from the pack? This and much more is all here in High Impact Proposals!
High Impact Proposals features a foreword by Ronald D. Worth. Ron is the Chief Executive Officer of the Society for Marketing Professional Services.