"Can I Borrow Your Watch?" A Beginner's Guide to Succeeding in a Professional Consulting Organization
Publisher: Lawrence B. Cahill and James W. Blake
Publisher: ACEC
Date Published: 2017
Number of Pages: 143
Availability: In-Stock
Format: Hardcopy
Price: $39.95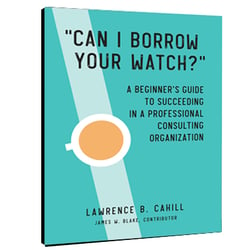 "Can I Borrow Your Watch?" A Beginner's Guide to Succeeding in a Professional Consulting Organization offers new engineers a head start in the business of professional consulting.
Covering a range of topics including writing reports, project management, client relationships, proposals, and financial management, Cahill tailored this essential guide to the unique needs of engineering firms, and the skills and experiences young consultants need to be successful in a large organization.
To hear more from author Larry Cahill, please enjoy the recent episode of the PSMJ podcast he was featured on.