Bold Brand 2.0
Date Published: 2017
Number of Pages: 314
Availability: In-Stock
Format: Paperback
Price: $24.99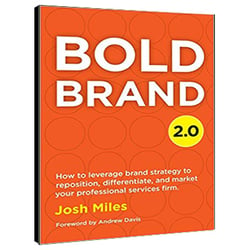 With the economy in full growth mode, A/E/C firms want the best and brightest to fill their studios, jobsites, and offices. If you only have one reason to better position your firm and tell your story in a more valuable way, recruiting top talent is a great reason to get a strong brand strategy in place. In Bold Brand 2.0, author Josh Miles explains:
What branding is and isn't
Why it's important to HR in A/E/C firms
How to use your brand to differentiate and position your firm in the marketplace
If your identity is old and tired—or you're starting fresh—Bold Brand 2.0 is for you. Firms are rebranding—and relaunching—to not only attract new clients, but to recruit talent. "If your firm hasn't built a strong brand platform and brand position (who you are, how you're different and why the world should care), good luck attracting and retaining the best talent," says author Josh Miles.
Miles presents a template for creating a "bold" brand. The author walks you through a process, best practice approach—Bold Brand™—to help firms:
Identify a niche
Position themselves within that niche
Build a compelling brand
This framework guides professionals step-by-step through the process, illuminating potential pitfalls along the way. Leadership learns branding is beyond a new logo but allows for clearer messaging and communication—always important to millennials.
While branding is at its heart a "creative process," for many professionals it often sounds too soft and nebulous to have any tangible value. This book, Miles walks you through a proven way to help you encourage prospects to consider your firm, clients come back for more, and staff to fully embrace the firm's mission and vision.
If you would like to hear Josh Miles talk about leadership and millennials, please listen to him speak on the PSMJ Podcast by clicking the link below.