One of the hottest areas of business development today is implementing the popular Seller-Doer concept. The concept recognizes that firm CEOs or principals or a few senior PMs of an architecture or engineering firm can no longer create enough business for the firm to grow and prosper.
Research indicates that more and more architecture and engineering firms are going to the Seller-Doer model, recognizing that technical professionals have the client relationships and that clients/prospects would like to talk with technical professionals about their upcoming projects.
Successful doers are usually steeped in technical education, training, and experience. Most have very little or no education or training in communications and business development. One engineering manager told me there is no room in the college engineering curriculum for communication courses. However, the University of Dayton recognizes the need for soft skills and requires engineering students to take a public speaking course. If not required, most students would try their best to avoid a public speaking course – sharing the fear many people have of speaking in front of groups.
Much of the work revolves around training A/E technical professionals how to sell. Most firms know they need communications and business development training, but most firms prioritize project management training and usually this exhausts their small training budget. But most CEOs and senior managers agree that soft skills are just as important as technical skills for any successful A/E firm professional.
One firm that has implemented a Seller-Doer model is Perkins Eastman, a 1,000-person 14-office international architecture, interior design and planning firm.
Their success hinges on:
Bringing clients. In the hiring process, the firm evaluates a key candidate's ability to bring past clients to the firm as well as relationships with industry prospects.

Skills evaluation. The firm evaluates not only the technical skills but also the soft or Seller skills.

Assignment to a Practice Area Leader (PAL). The new employee is assigned to one of the 14 practices and a PAL who helps in developing his technical and business development skills.

Seller-Doer training. The technical professional is coached through workshops and offered 3rd party Seller training.

Becoming a "Partner" with clients. The technical professional becomes proficient in critical listening and communications skills necessary to finding out want the client wants and needs and becoming his "Partner" for developing unique solutions.
A/E firms that have implemented Seller-Doer BD training focus on teaching marketing and BD programs to develop the skill sets, processes, and practical applications to their unique services and markets. CEOs/firm principals agree that this structured training in both Seller and Doer skills has resulted in increases in work from clients as well as winning new work from prospects. When firms are asked about their first priority, the top answer is more work and more money. Here is a positive and tried and true method for increasing revenue. Why not give it a try.
About the Author: Peter Kienle, FSMPS, CPSM, MBA and past SMPS National President, with Kienle Communications LLC has more than 50 years of experience in A/E/C marketing and business development. In addition to reviewing and recommending how to upgrade proposals and marketing materials, the firm specializes in interview coaching and training, and business development training.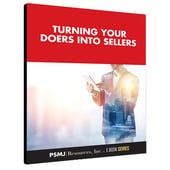 This article is an excerpt from PSMJ's Turning Your Doers into Sellers. In this free ebook, we help you navigate through some of the thornier parts of getting started as well as implementing a realistic and successful Seller-Doer program.