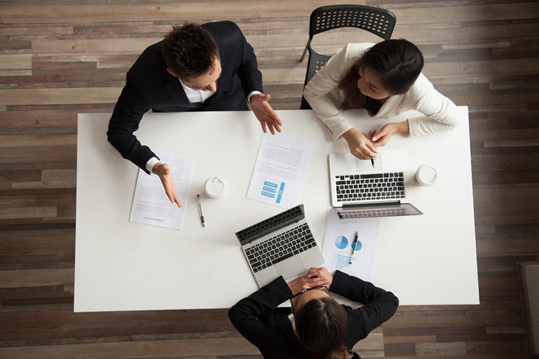 Companies and organizations have a difficult time integrating data from both their HR and finance departments; that's if they even have an Human Resources (HR) department. Every company is well versed in their finances, but might not be as knowledgeable with HR strategy. It takes time, but it is crucial to get to a point where these two departments are able to agree with one another when running a business. Once the departments are able to properly compare data, companies can then budget for recruiting top talent. If companies develop a substantial HR department, this department can eventually help employees plan for retirement.
They need to speak the same language
Consolidating the finance and human resources departments takes a great deal of strategy in order to execute reciprocating support. According to Oracle, "35 percent of businesses surveyed are creating a shared Finance and HR Function." By joining forces, both the finance and HR departments will be able to reduce costs, improve employee engagement, and create a stronger foundation for growth.
By understanding the trends of what is happening today, both departments will be able to have access to a summary of data and predict what will happen tomorrow. Imagine how much of a difference a business could make if they understood the financial changes that occur with employee headcount reporting. Having this information readily available can help businesses strategically plan for headcount, budgets, and related workforce costs all in one place.
The executive team can then have more insight and understand what their company is capable of when it comes time for organizational changes. Some of these changes include expanding the company, preparing for merges, and reducing costs across the board. Having merged the HR and finance departments, the executive team will be more proactive when creating new models of their proposed organizational changes.
Properly budget out HR recruitment
Reviewing all historical financial performance is a great place to start. In order to budget for the future, it is critical to take a few steps back and review past budgets and strategies. Each company and organization needs to pick the strategy that works best for their anticipated success. Companies that rarely touch their budget should utilize incremental budgeting. This style is simple and fairly easy to adjust when financial changes occur. It also offers financial stability in order to see long-term results.
While drafting up a budget up for HR, it is vital to include anticipated growth of employees. Companies need to pay close attention to their external recruiting and employer branding events. These recruiting costs can add up quickly if not calculated correctly with the finance department. As soon as recruitment costs are paid off, the HR and finance departments need to be quick to counter the actual hiring costs. Office visits, relocation costs, employee credit checks, sourcing candidates, interviewing processes, and onboarding costs. The downfall of hiring is that it is never consistent throughout the year. It is crucial for HR to take note of their average external recruiting expenses from month to month.
Planning for retirement
It is no secret that planning for retirement can be a strenuous process. Properly doing so will ensure that a path is set in stone for an employee after their career is over and is chock-full of various recreational activities and hobbies. To make sure employees are getting the opportunity to enjoy their retirement to the fullest potential, it is advisable that HR departments pull their weight when it comes to setting their employees upon the right path to retirement. HR working hand-in-hand with their company's finance department is a key way in which HR departments can pull that weight.

Planning for retirement goes beyond just being a task that requires a ton of planning. It should also be a milestone that one is prideful in. There should be some fun and excitement involved because this is something that employees look forward to for decades. HR and Finance should shift their mindset and work together in order to provide the best retirement plan possible. By being able to have HR and the Financial Department practically at each other's disposal, and communicating with each other, the employee should possess a stronger degree of confidence when it comes time for their retirement.
There are endless ways in which a company's HR and financial department can aid their employees when preparing to be more financially secured heading towards retirement. There are multiple things that should not be overlooked by an employer. One big thing is making employees aware as early as possible, as far as what the company offers in terms of retirement plans and options. Most companies opt to automate the benefits and retirement packages for employees during their enrollment process.
This can be an excellent way to introduce employees to a supportive retirement plan from the get-go. However, some employees, those particularly new to the workforce, may be clueless when it comes to retirement plans. In some cases, many just assume the entire process is automatic. Many employees are also unfamiliar with how taxes work when it comes to retirement plans. A strong HR department will be able to identify those employees who require additional help. Having these strong dispositions, HR will work closely with the finance department in order to set up a solid retirement plan for their employees.
Conclusion
Integrating information between HR and finance departments and having the two work synchronously will set your company up for success. Both departments will be able to increase employee engagement, establish a strong foundation for growth, and reduce overall costs. Once they are able to effectively compare data, the two departments can establish a budget to recruit the best possible candidates. Finally, they can ensure that current employees are set up for the best possible retirement plan.
Author Bio: Carolyn Krokus is a contributor for 365 Business Tips and can be found enhancing blogs by writing lively and relevant content. She is a professional digital marketer, which has helped with branding and implementing new strategies.
Thank you for reading!
Now its your turn: We invite you to submit a blog post on any hot topic related to the A/E/C industry.