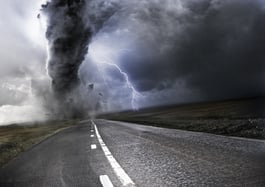 Does your company have a Plan B?
Small company owners often don't give enough thought to how they would respond to an unexpected natural disaster, data loss, or financial emergency, and when the unthinkable happens, they are left scrambling for a solution. Chances are that solution, however, will prove ineffective.
Here are a few sobering statistics about disaster recovery and business continuity:
The saddest part about these statistics is that they could have been very different had the businesses involved simply made the effort to create a disaster recovery plan beforehand.
It doesn't matter what industry your business is in when an unexpected emergency occurs that brings daily operations to a halt, you need to have a plan in place to recover as quickly as possible so you can get back to serving your clients.
Your Business Won't Get Caught Off Guard
When small companies don't have an official disaster recovery (DR) and business continuity (BC) plans, it's typically because the owners are unclear about the true value having them in place. That said, here are three reasons why disaster recovery and business continuity plans and the solutions that support them are so important to the health of your business:
Everyone is on the same page. Even your most trusted employees cannot be expected to know what to do in an unexpected emergency. If your employees make their own spontaneous decisions, it will only add to the confusion of the situation. By having a thought-out, well-documented disaster recovery plan in place, and training your employees how to follow it, you can help to avoid that added pandemonium.

You help to protect the assets your insurance plan can't. Unless your business has an extremely comprehensive insurance plan, chances are you will not be fully covered for some of the indirect and hard to measure costs of a disaster, such as the loss of customers, damage to your business' reputation, or setbacks in the roll-out of a new product or service. A good disaster recovery and business continuity plan can help you minimize such damage.

You can contain the damage. One disaster can lead to another. For example, of your business stores a lot of confidential customer data, you want to make sure this data remains safe from loss and theft. This is particularly important when disaster strikes and there tends to be a greater sense of confusion and pressure among your employees and customers alike.
Life can throw you a curve ball when you least expect it, sending your business into sudden chaos. By having a good disaster recovery and continuity plan in place, it can prevent a whole lot of discord and grief down the road and get your company back up and running as quickly as possible. That's not an exception; it's just good business.
For disaster recovery and business continuity plan development training we recommend a Learning Tree disaster recovery course.
PlanBcp is a Microsoft Office365 / SharePoint Online solution available at the Microsoft Office Store.
About the Author: Arnold Villeneuve has over 25 years in the computer technology and services industry working with standalone and networked microcomputers, minicomputers, and mainframe systems. He has been an Author and Instructor with Learning Tree International since 1993, where he has developed seven courses for Instructor led, Computer Based Training, and e-Learning initiatives. He has also authored two books for McGraw-Hill.
PSMJ is always looking to publish diverse views on emerging issues and trends in the A/E/C industry. If you would like to respond on this topic or comment on any other, we invite you to submit a 500-word post on any industry-related topic. We look forward to hearing from you.