The Coronavirus Aid, Relief, and Economic Security Act (CARES Act) provides companies and individuals with a host of tax saving opportunities. We previously discussed the benefits that the qualified improvement property (QIP) fix provides for any taxpayers who have incurred renovation costs since 2018. This article focuses on the impacts to net operating loss (NOL) carrybacks.


"The good news is that after a very steep drop, the last couple of months, including July, are already showing an upward trend," PSMJ Senior Principal David Burstein, P.E., said at a recent senior executive briefing. "It's not a real robust recovery, but people tell me they shouldn't have been hanging onto the five percent or 10 percent of people who got cut anyway."

Burstein pointed out some other key points during the briefing:
• A number of vaccines are under development
• Firms overwhelmingly kept up with salaries due to Paycheck Protection Program loans
• Few firms cut salaries or bonuses
• About 43 percent of firms are unsure about upcoming salary increases
• Profitability will be about the same as last year
• Proposal activity is recovering, though slower for private-sector markets
• Many strategic plans, particularly those at large firms, need to be revisited.
New business formations across all industries are experiencing incredible growth—a rate of 84 percent compared to a typical annual rate of roughly five percent to 10 percent. Burstein said he has every reason to believe the A/E industry is following suit, which means "you may find you have a lot of new competitors. Watch out for that one."

ONCE THE CRISIS IS OVER, HOW MUCH OFFICE SPACE WILL YOU NEED?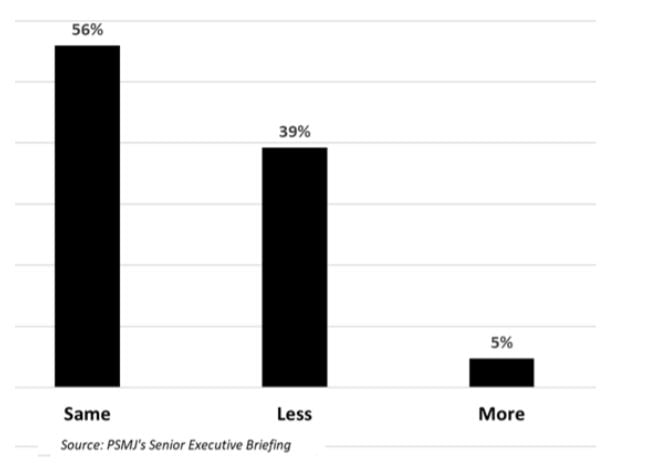 MOVING FORWARD
Some firms have been able to weather the pandemic well despite the circumstances. The revenue at christopher consultants, which has six locations and is based in Fairfax, VA, has remained almost identical in 2020 to that of 2019, and cash flow continues to be strong.

In fact, christopher consultants has hired at least five new people since the pandemic started, including two significant positions: a vice president of its public services division and a director of human resources. "We've actually sold 10 percent more in the first seven months of the year than we did at this same time last year," said President William R. Zink, P.E. "Now it's about maintaining a culture to get through this."

To prevent burnout, the company sets up frequent virtual town halls for employees to ask any questions they want. It also has developed a "Smart Work Program." One of the features in the program allows for employees who relocate to other cities—but don't want to quit—to set up home-based offices and expand the company into new geographic regions.

Said Zink: "We also support our working parents any way we can to help them adjust to working at home while having to care for their children and take on a larger role in educating them." Organizations should expect a period of transition as they respond to a changing workplace brought about by the pandemic, according to Chris Strain, an executive managing director at the Central Valley office of Cushman & Wakefield, based in Sacramento, CA.

Companies likely will need less space as a growing part of their workforce switches to remote working. Alternatively, employees in the workplace will require more space to meet social distancing standards. The change in demand for office space will differ from one organization to another and from one region to another.

The COVID pandemic has quickly forced companies to scale up technology infrastructure to meet the needs of the remote workforce. "The success of technology supporting remote work has eliminated a barrier to implementing remote work that existed before the pandemic," explained Strain. "The question remains whether worker productivity can remain stable or increase under a workfrom-home model." l