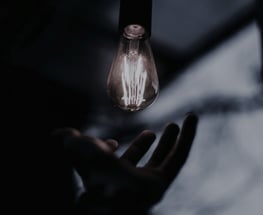 Often times I hear six-figure firm owners say things like "Next year I'm going to scale the firm to seven figures…" and definitely this is an exciting time in the life of an entrepreneur selling architectural, engineering and/or construction services.
Exciting, scary, realistic, optimistic… What do you think?
Also, I've met a fair number of firm owners in the A/E/C industry who have been doing their very best to achieve this, haven't been able to (yet), and are determined to doing so.
The six-figure hamster wheel is spirit killer. It can toss owners into a vicious cycle of over hustle and burn out. I know because I have been there.
So, how do you get out? More hustle?
It was hustling that got you to the six-figure mark in the first place.
Wrong!

What got you to six figures is not what will get you to seven. This type of growth requires a different strategy, with different tactics and therefore a different type of leader.
By all means I do mean you. A more evolve version of you, the owner of the firm.

Here are seven pieces of advice, as you scale beyond six figures…
1. Overcome the "hustle mode" mentality
The key thing here is to understand that what got you here (hustle) is not what's going to get you there. This mentality—even if it has become mainstream—is BS. You did not start your firm to work 60 hours a week for the rest of your life.
Let's be real. You started the firm to live a better life NOT a worse one.

So, overcome this mind block and welcome in a new mindset.

One that allows you to mature into the role of the owner you aspire to be.
2. Take advise from only 2-3 people (Who are 2 steps ahead of you)
There is a lot of good people, giving good advice out there. The thing is most people have not gone through what you are going through and are completely irrelevant to the A/E/C industry.
I have been helping owners grow their firms for years and have never seen an industry that is more particular.

Choose to take advise from only 2-3 people that are in THIS game.

What you want is specialized and strategic mentorship from someone who is a couple of steps ahead of you.
3. Overcome the commoditization of A/E/C services.
This is a tough one. But the truth is A/E/C services have been commoditized.
If you are selling design, build, and engineering services chances are your competitor's go-to strategy is price bidding you.

Whatever you do. Do not compete on price. It's an obvious race to the bottom.

As your competitors go broke, what you want to do is create offers that position your services beyond the scope of traditional A/E/C services.

An example could be including advisory services, yield optimization services, brand enhancement services, into the traditional scope of work and as a front-end offer.

There will more on this on a separate article.
4. Attract high-value clients. Repel everyone else.
Momentum and time are some of your most valuable assets, and they should be dedicated to your best work and your best clients.
You want to develop and leverage a process to systematically attract high-value clients. Since scaling beyond six-figures is a process game, and not a hustle game the way your firm attract new high-value client must be repeatable process.
We are talking about the power that you have to systematically draw your perfect high-value client towards your firm.
When a strong attraction system is in place, you are relevant to high-value clients from the moment they first come into contact with you until they become a client.

Seven figure firms need and have this in place.
5. Leverage a real sales process.
Selling high-value architectural services is all about creating real relationships and establishing a high-level of connection.
This is the component that will ultimately convert nurtured prospects into high-value clients. Developing a solid sales process is the key to scaling your firm.
To do this consistently, you need to establish a process to leverage your nurtured audience of high-value clients and connect them to your firm and your services.
When you leverage a real sales process, you can effectively leverage business development reps to bring more high-value work to the firm.
6. Actively develop solid relationships
Solid relationships are the fuel of a seven-figure architecture firm. When we cultivate lasting relationships, we are building a network for many future projects and exponential value for your firm.
Some advice I can give you is to spend an hour a day, every other day, calling, messaging and having real connections with the people that matter most to your business.
Most people are not conscious about the people they choose to cultivate relationships with…
Lasting high-value clients are those that connect with you on a personal level and align their "big vision" to you and the services your firm offer.

Choose the people you want to cultivate these relationships with and make the calls.
7. Get "out" of the firm as soon as possible
Working your way up to six figures was hard work, and more likely than not it was a lot of hustle. Hustle is a double edge sword.
When we are in hustle mode, we develop habits that are actually counterproductive to when scaling. In hustle mode we do too much of too many things. Burning out is inevitable.

In order to build a real business—and firm—not just a hustle you are going to have to hire key players to execute on key activities.

As a recommendation, get out of the business development process, the delivery process and the marketing process as much as possible. As a leader, you must focus on strategy and vision.

To perform at your highest potential as the strategist, you can't be hustling. You need a certain level of freedom and time to enter into your zone of genius.

Let others do what they can do better than you.
About the Author:
Ivan J. Lares is Chief Executive Officer | Senior Marketing Strategist at Sea Level Media. Vancouver, Canada-based Sea Level Media was founded in 2015 with a core mission of helping executive leadership at architecture firms improve the way they market their firms.
PSMJ is always looking to publish diverse views on issues and trends in the A/E/C industry. We invite you to submit a 500-word post on any industry-related topic. We look forward to hearing from you.