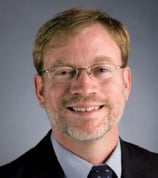 In anticipation of his THRIVE 2016 – The A/E/C Industry Summit keynote presentation, Achieving Growth and Success Through an Unconventional Approach, we sat down with Kimley-Horn President and CEO, John C. Atz, P.E. to discuss the challenges facing the A/E/C industry today, the firm's unconventional approach to growth, and how they transition ownership without drama.
For almost 50 years, Kimley-Horn has made a habit of charting its own course. A unique mix of passionate client service and commitment to employees has led the firm to a national presence with over 2,600 employees in 80 offices across the country. Along the way, Kimley-Horn has leveraged many of the positive attributes of smaller firms while bucking many of the practices of large ones. The result: a firm recognized by ENR as a Top Pure Design Firm (#15), and nine-time recognition as one of Fortune Magazine's 100 Best Companies to Work For.
Q. From where you sit, what is the biggest challenge facing the business of architecture and engineering today?
A. One challenge is always going to be the need to hire the right people. We are a people business. When the markets improve, there is a lot of competition for candidates. And I think everyone is struggling to find well-qualified people that they feel would be a good fit within their organization.
Yet, another challenge comes to mind: That is the consolidation of our industry into larger and larger firms. They go at things in a much larger company mindset. And so, things like benefits to employees end up being compromised. People get treated a little more like commodities, instead of true employees. There is a tightening down, more and more, on how we value people.
I feel that the industry is moving away from the value that we provide to society, and much more towards the idea that we can put it all on a spreadsheet. For some organizations, their objective is to have the lowest possible overhead, and sometimes that is achieved by not providing the level of benefits to employees that we ought to as an industry.
People ought to be proud to be engineers—be able to have a career as an engineer, and at the end of their career have some sense of financial security. I am not sure that the industry is holding that in high regard.
Q. With a nine-time recognition as one of Fortune Magazine's 100 Best Companies to Work For, how would you define Kimley-Horn's culture?
A. Our culture is very rich. We look at culture as the antithesis to a policy manual. If you think about a policy manual, it's when a circumstance or question comes up, here is how you are supposed to respond. That doesn't encourage people to think; it simply encourages you to find the right answer on the right page in the policy manual.
We look at our culture as the means by which we inform people in how to make decisions. We want our employees to not just accept "well, this is how we do it," but understand why we do it that way. Our view is that, if we can teach people our culture, they can experience our culture over time. Then, when a circumstance or question comes up, they will know how to respond. That's because we've taught them what we value in making decisions—things like the importance of client service, and how we treat each other as employees and partners.
We have a "Core Values, Core Purpose" document, and it drives a lot of what we do as an organization. We do a tremendous amount of training on elements of our culture.
Q. How do you ensure that Kimley-Horn's culture stays intact with growth? How do you ensure that new employees understand the "secret sauce"?
A. We are very, very transparent. We have no secrets. We share much more information than I think the majority of firms share. And we do it because we feel that the more we empower our staff—the more folks understand the company, their role in the company, and how they can influence the success of the company—the more they buy in. They want to do well and contribute because they see how they fit in the big picture.
We also make a lot of effort to try to break down barriers associated with hierarchy. We have no formal organizational chart. I will go to lunch with a new hire and I will go to lunch with a principal in the firm. There is a lot of time we invest in breaking down any potential barriers between folks.
Also, I think a lot of companies are motivated for growth for growth's sake. We are just not that way. We want to grow—growing is part of our culture—but we want to grow well. And so, one of the things that we use as a governor on growth is culture.
Our culture is so important to us that if we feel like we are growing at a pace that we can't continue to disseminate and integrate folks into the company without diluting the culture, then we will back off on our rate of growth, and we will focus our efforts more on training, and exposing people to our culture—because that's important.
Q. Is it really possible to transition ownership in an A/E firm without the drama and headaches that so many firm leaders seem to encounter?
A. We feel like it's important to give people the opportunity to be owners. We have 2,600 employees, and 400 owners. It is intended to be a high bar to become an owner, but not a bar so high that you can't achieve it. Our challenge isn't at all the appetite for stock. Our challenge is that there is more demand than supply.
Very early on, we created a mindset of paying it forward. I am asked if I see us ever selling the firm, and the answer is no, because the generation before us chose not to sell the firm. They could have done what perhaps would have been in their best interest financially, but they wanted others to experience the opportunities for ownership.
So where we are now is that we have zero interest in being acquired, because we feel that we owe it to the next generation to have an opportunity to enjoy being an owner, and all the things that come with it.
It's a mindset: You have to decide, am I building this company to build a legacy or to maximize my personal wealth. If you build a company that lasts, than ownership transition doesn't have to be a challenge.
Q. What is one piece of advice that you wish someone had given you when first starting out in your career?
A. We spend time at school and are educated to become a very capable and technical engineer. But I think, in the real world, while certainly you need to have technical skills, clients are looking to us as consultants, not just engineers. This means eliminating blinders, seeing more of the big picture, not limiting yourself to what you learned in school, or the technical elements of what an engineer does.
You need to think more like a client, appreciating all of the complexities that go beyond simply running the calculations. That's a place where a lot of folks could improve: See more of the big picture in what it means to be a consultant, and really help a client.
About the Author: John C. Atz is President and CEO of Kimley-Horn. Mr. Atz joined the firm in 1987 as an engineer analyst. He progressed through various practice and leadership ranks of the firm and assumed the role of President in 2009. His professional affiliations include the American Society of Civil Engineers, Florida Engineering Society and the Florida Engineering Foundation where he currently serves as a trustee. Mr. Atz earned his bachelor's and master's degrees in civil engineering from Clemson University where he currently serves on the Glenn Department of Civil Engineering Advisory Board. Mr. Atz lives in Tequesta, Florida. He can be reached at john.atz@kimley-horn.com.