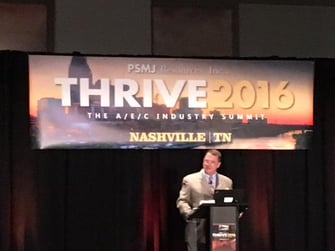 Held October 12-14 in Nashville, PSMJ's THRIVE 2016 - THE A/E/C INDUSTRY SUMMIT brought together leading A/E/C professionals for two days of eye-opening keynotes and break-out sessions, all delivered by some of the industry's leading visionaries and thought leaders.
Among the hot-button issues discussed at THRIVE 2016, was how to develop a strong firm culture, one that nurtures next-generation architecture and engineering firm leadership and ownership.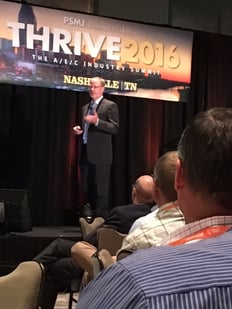 Industry keynote headliners included John Atz, P.E., president and CEO, of Kimley-Horn. A unique mix of passionate client service and commitment to employees has led the firm to a national presence with over 2,600 employees in 80 offices across the country. Along the way, Kimley-Horn has leveraged many of the positive attributes of smaller firms while bucking many of the practices of large ones. The result: a firm recognized by PSMJ as a 2016 Circle of Excellence member and by ENR as a Top Pure Design Firm (#15).
In his keynote, Atz discussed Kimley-Horn's unconventional approach to growth, as well as described the firm's organizational structure around practice builders, the benefits of functioning as a single profit center, and how they have built a culture that develops future leaders and transitions ownership without drama.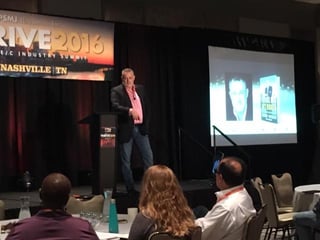 This year, THRIVE 2016's keynote roster featured media star and marketing guru Jeffrey Hayzlett, and author of the best-selling book Think Big, Act Bigger. Following the success of his prime-time show, C-Suite With Jeffrey Hayzlett, companies always want to know what is the secret behind the success of entrepreneurs and executives who can move mountains.
"I've owned franchises, ran small businesses (and sold over 200 of them), and I have been the CMO of a Fortune 500 company," Hayzlett said. "I've learned that in every business and in every industry, limitations exist everywhere, mostly in our minds and in the stories we tell ourselves. Getting past these limitations is hard work." In his keynote, Hayzlett focused on instilling in attendees the attitude needed to overcome the obstacles that face our businesses every day. "No one is coming to save us; none of us will win the lottery," Hayzlett said. "Everyone can think big, the art is in acting bigger."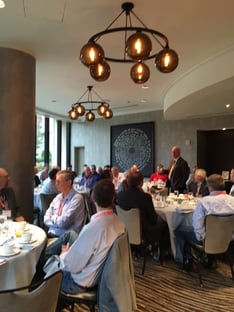 PSMJ's THRIVE 2016 - THE A/E/C INDUSTRY SUMMIT was also an opportunity to celebrate the industry's recent successes as well as its top-performing firms, the 2016 Circle of Excellence members and 2016 Premier Award winners, at what was a festive and high-energy awards ceremony and after-party.
Hot topics abound. How to develop a strong firm culture, one that nurtures next-generation firm leadership and ownership was also a topic of discussion at a networking breakfast of 2016 Circle of Excellence members and 2016 Premier Award winners. Participants shared their experiences as well as some of their best practices in creating a culture that paves the way for future leaders and ownership transition.
Moreover, the conference's 30 standing-room only breakout sessions were packed with tangible insight and strategies on such topics as business development, client satisfaction, technology innovation, and firm success and growth. Again best practices in developing next-generation leadership and ownership transition were a hot topic discussed in a number of learning sessions, including the following:

Creating a Better Business by Design, by Jenifer Navard, Principal, Director of Finance, Eskew+Dumez+Ripple
Tales of Flexibility: Moving from One Generation of Ownership to the Next, by Korey Walker, Chief Executive Officer and Chief Financial Officer, Epic Engineering
Tackling Your Transition in the Face of a Millennial Leader,

by

Gregory Buccola P.E., SE Vice President, Luckett & Farley
Developing Leaders Within Your Organization: A Strategic Approach, by Tim Griffin, P.E., MBA, LEED AP, Partner and Branch Manager, RMF Engineering, Inc., and Duane Pinnix, President, RMF Engineering, Inc.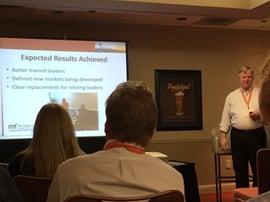 This year's event also featured an exhibit of 19 sponsor companies, including Deltek, BQE BillQuick, and Corporate Tax Advisors, among others. Exhibitors not only showed off their technology solutions and business service offerings, but also participated as speakers in the learning sessions.
Now it's your turn: What are your takeaways from THRIVE 2016 - THE A/E/C INDUSTRY SUMMIT? Let us know!
About the Author: Margot Suydam is PSMJ's Content Development Manager. She can be reached at msuydam@psmj.com