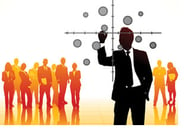 Whether you're a current or future architecture or engineering firm leader, embrace these six guiding principles to keep yourself and your employees engaged, and your firm vibrant and growing.
Customer service and quality
We provide outstanding customer service and develop great client relationships. Our philosophy is to maintain loyal, repeat customers. On a project-by-project basis, we emphasize quality over profitability, keeping our eye on overall firm.

Mutual respect
Our practice is based on mutual respect. We are classless in our relationships with each other. We do whatever it takes to get a project done successfully. Everyone, at times, does all levels of work. The leadership team makes decision by consensus.

Vitality
We maintain a balance of work, fun, energy, renewal, and revitalization. We are proud of the firm, the work we do, as well as our co-workers.

Learning organization
We empower staff to take initiative and when a mistake is made, learn to make it.

Design quality
We aspire to improve the quality of all our design work.

Project types
While we desire a mix of small and large projects, we especially value the design opportunities offered by freestanding versus interior improvement projects. Larger projects offer exciting professional challenges as well as the potential for greater profit. We anticipate growth in the size of the firm to accommodate these larger projects.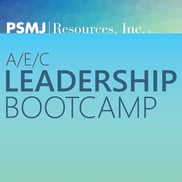 What really makes a great leader? More than managing people or projects or finances, great A/E/C firms leaders can truly inspire and motivate others to perform at their peak. Whether you believe that great leaders are born or built, every current and future firm leader can benefit from opportunities to refine their skills and test drive their leadership chops on real-world case studies and hands-on exercises alongside coaches who've been there. PSMJ's A/E/C Leadership Bootcamp is for professionals in the architecture, engineering, and construction industry who want to improve their leadership skills.
Your also might be interested in these leadership related blog posts:
Developing the Next Generation of Principals
Expert Interview: Developing Next Generation Leaders
Where Are The Next Generation Leaders?
Are You Doing What it Takes to Build Rapport with Senior Leadership?