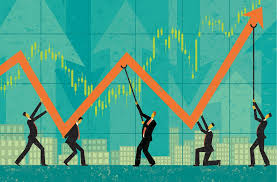 Utilization is a matter of simple math for professional services firms—billable hours equal revenue earned. It's also one of the most commonly and closely tracked metrics used to gauge financial performance in the design industry, and can be a borderline obsession for some architecture and engineering firm leaders.
Michael Kuppinger, P.E., Ph.D, a consultant and engineering company executive who studies the habits of high-performance firms, argues that this is a misguided view.
CONVENTIONAL WISDOM MAY BE WRONG
In examining PSMJ's Circle of Excellence (COE) firms—those among the top 20 in PSMJ's annual A/E Financial Performance Benchmark Survey, based on 13 key performance metrics—Kuppinger identifies the trait of maintaining "small, stable teams for dynamic client response" as a significant differentiator. Within this dynamic, Kuppinger has found that utilization is not as significant a contributor to a firm's overall success as conventional wisdom suggests it is.
"In contrast to A/E firms that continually move staff from team to team to maximize utilization, highperformance firms focus on continuous improvement through team stability," Kuppinger says. He reached this conclusion after a 20-year career in engineering firm management, complemented by research completed for his consulting and an upcoming book on the secrets of high-performing firms.
TIME TO CHANGE THE FOCUS
"I had 240 engineers working for me, and the focus was always on utilization," Kuppinger says. "When I looked closer, though, I found smaller, more stable teams that had pretty good, but not great utilization, but whose project profitability was always high. I thought maybe they were just charging more, but I eventually found out that these teams were so much more effective than everyone else. They learned from each other and were incredibly efficient."
Kuppinger says there are better measures for firms to use."I always somewhat believed the message that utilization was over-emphasized," he says. "But after the research I've done, I believe it even more. When you use utilization as a key factor, that's where you start to break teams apart. I suggest instead using effective multiplier or some combination of billable hours and what the firm got paid."
By taking the focus off utilization and placing it on working effectively in small teams of four to eight people, firms will ultimately achieve greater degrees of profitability and staff stability, Kuppinger says. He adds that utilization doesn't correlate with profitability, in part because staff pressured to achieve high utilization can figure out ways to be highly utilized on a time card while not necessarily doing what is in the best interests of the firm. "Focusing on utilization causes more damage than it ever helped," he says.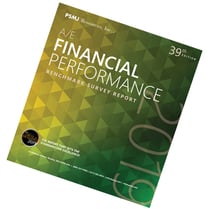 With data from 353 A/E firms across the United States and Canada, PSMJ's 2019 A/E Financial Performance Benchmark Survey Report is the go-to industry resource for firms wanting to increase cash flow, lower overhead, and improve overall financial results. Now in its 37th edition, the comprehensive report provides the most valuable research and insight available for making critical decisions that impact the success of a firm.