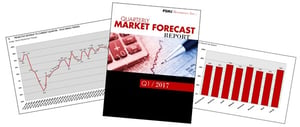 Despite 2018 bringing architecture and engineering (A/E) firms some of the most robust market demand in years, they may not be so lucky in 2019.
PSMJ's latest Quarterly Market Forecast (QMF) report shows some of the slowest proposal activity in more than five years in key client markets. Experts warn this could be an early indicator of trouble ahead for design firms.
Since 2003, PSMJ Resources, Inc., the worldwide leader on improving the business performance of architecture and engineering organizations, has asked A/E firm leaders about their outlook and proposal activity in 12 major client markets and 58 submarkets on a quarterly basis. The data is reported in a Net Plus/Minus Index (NPMI). An NPMI value of zero percent indicates an equal number of respondents are reporting growth and decline.
When asked about projected proposal activity for the first quarter of 2019 being higher or lower than the previous quarter, an NPMI value of 46 percent continues a trend of (while still in positive territory) declining proposal activity in market conditions.
Overall Market
Projected Q1 2019 Proposal Activity Compared to Q4 2018
NPMI Values

"Since 1960, our average time between recessions is 73.5 months," says PSMJ Principal David Burstein, P.E., AECPM. "We are now well past 100 months since the last one." Burstein looks at A/E markets and submarkets, such as housing and subdivisions, as leading indicators of if, and when, the next recession will hit.
The following chart illustrates PSMJ's NPMI on actual Q4 2018 proposal activity for the housing market segment:
Housing Market
Actual Q4 2018 Proposal Activity Compared to Q3 2018
NPMI Values

With an NPMI value dipping to its lowest level since clawing out of the recession in 2013, this is one potential indicator that trouble is looming for A/E firms. Burstein adds, "Residential subdivision proposal activity is, arguably, the most upstream indicator of demand throughout the entire architecture and engineering industry. When you dig into this component of the housing market, NPMI values have declined in three of the past four quarters and are now down to nearly zero. Coupled with the weak data on new home sales, this indicates a slowdown coming and it is caused mostly by decreased affordability resulting from higher housing prices and mortgage rates."
For more detailed information, get a copy of PSMJ's Quarterly Market Forecast. Your are also invited o participate in the next survey. PSMJ members get complimentary access the complete report each quarter.