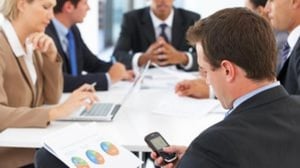 Everyone talks about the "talent war" and retention issues, but not many talk about practical, business solutions that actually work!
Given a sound business strategy, having the right talent in the right position to execute your strategy becomes a critical success factor. Talent is also a tangible way to differentiate your firm; your clients will experience the difference.
Talent directly impacts your firm's brand image, reputation, and client experience.
Today, firms that are well positioned to face a dynamic world have a talent management process and regular talent discussions are a priority. Firms positioning themselves for continued growth and success know the answer to these questions:
What are your business critical roles? Do you have at least two viable successors?

Who are our "A" players? What is the plan for keeping them highly engaged? Developing them? Challenging them? There are certain known trait tendencies and competencies that A players share.

Is our recruiting process effective? How do you know? There are known metrics that can help you assess the effectiveness of your firm's process.


Are selected candidates, whether from outside hire or internal promotion, performing well against defined Key Performance Indicators? Does your leadership team have a shared understanding of effective performance, both in terms of measurable results and observable behaviors? It is possible through defining Key Performance Indicators and Critical Behaviors to create a shared understanding of performance for business-critical roles in your firm.
A good, validated behavioral assessment can provide a valuable additional, independent data point in answering these questions. Behavioral assessments that are job specific have proven to be highly valid and predictive of actual on the job performance.
An Invitation to Complete A Really Valid and Predictive Behavioral Assessment – Receive a complementary Your Greatest Strength Report.
Complete my assessment of choice (really a work preferences questionnaire) when you can control interruptions for about 20 minutes by clicking on the link below.
Drop by the Talent Matters - Harrison Assessment booth at THRIVE 2018 and pick up your report and let's talk talent! Learn what has been discovered about selecting and developing Project Managers, and Branch Office Managers in "A & E" research sponsored by PSMJ and Talent Matters.
About the Author: Reid Tolley, SPHR, Certified Master Coach is President of Talent Matters LLC, and Managing Partner of Harrison Assessment Talent System. Contact him at reid@talentmatters.solutions

Talent Matters is a sponsor and exhibitor of PSMJ's annual conference to held October 22-24 in San Diego. THRIVE 2018 is your chance to learn, to network, and to get an eye-opening perspective on what the world's most successful A/E/C firms are doing right now to thrive. This unique annual conference attracts senior-level executives from a wide range of A/E/C organizations located around the world.