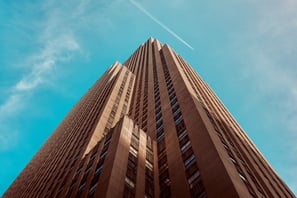 In the monthly column, Ask The Expert, Professional Services Management Journal (PSMJ) asks industry experts to answer queries from its readers.
In the October issue, John Doehring, Executive Leader of Advisory Services and Training at PSMJ Resources, Inc. replies to the following question:
I've read that the average architecture/engineering firm spends something like 4-5% of net revenues on marketing and business development. That's about what we do as well, but I wonder what you think. Is this enough? (President, 100-person engineering firm)

JOHN DOEHRING: In a word, no – but let's dig a little deeper. More truthfully, this amount might be enough for your firm – depending in part on what 'enough' means to you in results. The benchmark you reference refers to the total median expense that organizations report as marketing and business development related.

According to PSMJ's 2015 A/E Financial Performance Benchmark Survey Report, companies do spend between 3.1-5.3% of total net service revenues (NSR) (at the higher level when the firm employs full time business developers, lower if it's all seller-doers). There are at least two problems with this data. First, a large portion of the expense (66-75%) comes from time—hours charged by professionals and principals to the marketing account.

But there's no information here about productivity—if the time was well spent on growth activities, if what was done was worth the cost. (In fact in too many firms this 'marketing' account becomes a safe place to log unbillable and unaccountable hours). A second problem is that much of the remaining marketing expense (25-33%) is focused too much on proposal development. While important, a completely reactive approach to proposal response (without any other business development effort further upstream) is not only ineffective, it's stupid.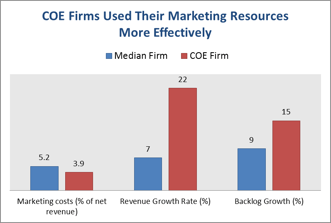 PSMJ's research on organizations in our Circle of Excellence – firms in the top 20% of industry performance – actually report spending less on marketing overall, while simultaneously getting more for their effort.
On an investment of 3.9% NSR (versus 5.2% for all respondents), COE firms report 22% growth in revenues and 15% in backlog (median 7% revenue and 9% backlog).
This data seems counterintuitive, but suggests that the top firms do a much better job of focusing their marketing and business development investment.
Marketing expense at 4-5% of net revenues might be the right number for your firm, but you can almost certainly do a better job of more wisely deploying that investment – on strategic positioning, branding, content development and inbound promotion, client relationship management, and so on.

Here's a few questions for you to consider: 1) What's the harder part of your business today, finding and capturing the work - or executing the projects once you have them? 2) If you want more growth/success than the median, should you invest more in marketing and sales than others? 3) Where is our industry (and our world) trending – is it becoming easier to break through the noise of the competitive marketplace
– or harder? 4) What if you had to spend a lot more on business development (50% or 100% more) in the future – could you adapt your business to survive and succeed?


About the Author: As Executive Leader of Advisory Services and Training at PSMJ Resources, Inc., John Doehring advises A/E/C firms in the areas of business strategy and planning, marketing and growth, organization development, and operations transformation. He has successfully led dozens of strategic business planning and operational improvement engagements for a wide range of client organizations.


This article is included in the October issue of Professional Services Management Journal: Advice for A/E Firm Leaders: Data-Driven, Provocative, Actionable. We invite you to check out the new PSMJ newsletter. Get a free issue, and then take advantage of a special offer to new subscribers.