 The concept of delegation ranks as the project manager's main tool in the challenge to "get it all done." It's also, however, the most common and significant shortcoming of project managers, and one that emerging leaders need to master to be successful.Here are a list of tips that can enable all project managers and emerging leaders at architecture and engineering firms to let go of "doing it all."
Effective delegation requires that you always:
• Begin with preparation and systematically plan your own tasks and what to delegate.
• Think about the activities the team member will need to do to complete an assignment.
• Specify responsibilities.
• Grant the team member enough authority to complete the assignment.
• Be certain the individual has the resources to do the job.
• Determine if you've given too much or too little authority and adjust appropriately.
• Ask the individual if you've provided enough information.
• Focus on what the task is, not how to do it.
• Take time to review completed assignments.
• Thank a team member and show that you notice high quality work.
• Assign one person responsibility for any given assignment.
• Give the individual enough latitude to make decisions.
• Let at least some portion of the individual's work stand.
• Discuss (when necessary) sub standard performance with a team member.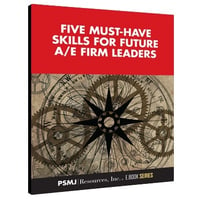 This article is an excerpt from PSMJ's complimentary ebook, Five Must-Have Skills for Future A/E Firm Leaders, a clear and concise overview, direct from PSMJ's architecture and engineering industry experts, of the ever popular subject of developing emerging leaders. This complimentary e-book gives an overview of the skills needed to develop your firm's top-performing employees.
Other leadership-related blog posts:
Where Are The Next Generation Leaders?
Expert Interview: Advice on Coaching and Mentoring
Developing the Next Generation of Principals