Machines have been taking human jobs for centuries, but this time it's different. The jobs machines took in the First Industrial Revolution substituted their "muscle" for ours, or they relieved us of simple, repetitive tasks. Machines provided a uniformity and stamina that humans couldn't match. Humans served as master, and new jobs emerged building, managing, and maintaining the subservient machines.
The Computer Age that followed created as many jobs as it took away. In this case, the machine's "brain power" was the attraction. Yet, even if they could "think" faster, they remained dependent on us, doing only what we told them to do.
This is the wall that A/E firm professionals could comfortably stand behind: Knowing that machines could never match the talent, imagination, and "humanness" necessary to design a building, plan a site, or engineer a new roadway. Advancements in CADD, and then BIM—along with other software and hardware tools—made the job easier and were supposed to improve productivity. But the machines that can build cars, collect tolls, or win at Jeopardy could never possess the skill and creativity to design a timeless cathedral, a breathtaking park, or a city-defining bridge without human direction. Or could they?
In fact, the wall is crumbling and may soon be gone. In the Fourth Industrial Revolution, machines can now learn. The better they are at learning, the more able they'll be to create.
In their 2014 book The Second Machine Age, Erik Brynjolfsson and Andrew McAfee wrote, "Technological progress is going to leave behind some people, perhaps even a lot of people, as it races ahead. There's never been a better time to be a worker with special skills or the right education, because these people can use technology to create and capture value. However, there's never been a worse time to be a worker with only 'ordinary' skills and abilities to offer, because computers, robots and other digital technologies are acquiring these skills and abilities at an extraordinary rate."
Has the work of architects, engineers, and other A/E professionals become just "ordinary"? For many, the answer is yes. In these cases, where machines can assume the designer's role, the next decade will bring about profound change, including the loss of many traditional jobs and positions for our industry.
It's already happening, and not only because of technology. Contractors in the U.S. and across the world are taking on more of the responsibilities that once belonged exclusively to designers. This is partly due to "alternative" delivery methods such as design-build, which are becoming mainstream.
The erosion of status for A/E professionals at the hands of one-stop shopping delivery methods has been underway for years now. New technology will only accelerate this disruption to the industry.
Architects on the Ropes
Architects are already suffering an identity crisis. Design-build can relegate architects to order-takers for contractors, and the perceived value of the architect's contribution on many project types has been on a downward trajectory for decades. Design templates and prefabrication also continue to eat away at the architect's one-time status as "Master Builder."
The U.S. Bureau of Labor Statistics predicts that the growth in employment of architects from 2016 to 2026 will be four percent. This is far lower than the average for all occupations, estimated to be seven percent, and for almost all other disciplines in the A/E/C space. Urban/Regional planners (13 percent), civil engineers, land surveyors and construction managers (each 11 percent) lead the pack in projected growth rate over the decade ending in 2026. Interior designers (four percent), landscape architects (six percent) and A/E industry managers (six percent) lag the average as well.
About the Author: As Founder and CEO of PSMJ Resources, Inc., Frank A. Stasiowski, FAIA is a counselor, strategist, and advisor to CEOs of the top design and construction firms in the U.S. and abroad. Stasiowski is a licensed architect with degrees from the Rhode Island School of Design and an MBA from Bryant University. He has spent the last 35 years working with design firms.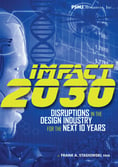 This article is an excerpt from the just released IMPACT 2030. As clients demand that work be delivered faster, and as the workforce gets younger, and we increasingly rely on emerging technology to balance cost pressures, nowhere are specific changes discussed in terms of how they affect long term strategic decisions for A/E/C principals. IMPACT 2030 outlines how demographics, globalization, government expansion, and technology advances can benefit firms that plan ahead — and be devastating for those that don't prepare.